<LINK REL="SHORTCUT ICON" HREF="http://www.sylviahalpern.com/public_html/favicon.ico">
Another huge storm came through in the early evening. The parking lot was flooded with water. Later, there was a party going on a few rooms over until after I wanted to go to sleep. They kept throwing beer bottles and caps on the ground outside their room while laughing loudly. I ended up calling the front desk asking them to deal with it. And they did.
The sun was shining in the morning and I got going at my usual 8:30. The temperature was cooler but the tailwind I was expecting didn't materialize. Yesterday the wind came from the south west. Today it came from the east. It was directly at my side all day. At least it wasn't as strong as yesterday. Leaving Ponca City I stopped at the Pioneer Women's museum. It wasn't open and I rode around the grounds. A very small farmer's market was setting up on the front lawn. There was a very long and gradual climb out of town. I was on Hwy 77 all day. It started with a nice wide shoulder into Newkirk and then disappeared. There wasn't much traffic and it often felt like a farm road. The landscape was tall grasses and large cattle ranches. The grass wasn't as green as yesterday. Today I saw my first corn field. The corn was only a foot high. I had expected to see a lot more corn and maybe all the rain has meant later plantings.
The road improved at the Arkansas River which I crossed and entered Kansas. Getting to a new state is always exciting. The first town is Arkansas City. In Oklahoma I rode through the town of Kansas and now in Kansas I'm riding through Arkansas City. I stopped at a community center to take a break and make lunch. There was a family reunion going on inside and I stayed outside using a picnic table while charging up the batteries. It was so nice that the temperature was cooler today. The wind was also cooler.
From here it was only another 15 miles to Winfield my destination for the day. The shoulder had crazy rumble strips for a short spurt. They went across the entire 15 foot shoulder. The rumble strips were spaced about every 20 feet. What is it with all the rumble strips? It seems that there is no end to the different designs. The road made a turn and the rumble strip returned to their normal place just inside the shoulder line.
I made my way into Winfield and found the Sooner Motel. There was a Super 8 and an Econo Lodge but I decided to go with a local establishment. This motel, like 99% of the motels I've stayed in, is Indian owned. The motel had everything I require and got checked in for $45.
Tomorrow I'll head to Wichita for a much needed break.
Ponca City, OK to Winfield, KS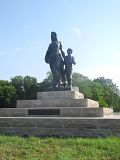 I crossed the Arkansas river into Kansas.
Statue outside the Women's Pioneer museum in Ponca.
Historical marker describing the great land grab.