<LINK REL="SHORTCUT ICON" HREF="http://www.sylviahalpern.com/public_html/favicon.ico">
A strange thing happened last night. At 11:30 pm a guy knocked at my motel door. I was asleep and the only reason I answered the door was I had locked Myrtle to a pole between my room and the room next door. I thought Myrtle might be in the way somehow. I was shocked to hear the man ask if I want to go get a drink. What? First of all, where are you going to find a drink in small town Kansas at 11:30? Second, this was creepy. He said he was from Iowa passing through town and didn't know anyone. Funny how that happens at motels. I told the guy he was crazy, he apologized and then knocked at my neighbors door. My neighbor was a really big black man. Like retired football player really big. With wide eyes, the guy says 'oh no' and the big black man says 'you got that right'. The guy walked off scared. That exchange turned my anger into laughter.
In the morning a severe thunderstorm forced me to stay in Winfield another day. The rain with thunder and lightning was unrelenting for hours. All I could do was sit in my motel room and watch it. The storm finally passed at about noon. The check-out time had expired and I booked for another day. My last rest day was over a week ago and I was due for some down time anyway.
I was happy to see blue skies on Monday morning getting packed and on the road. After an hour of cycling I realized I had forgotten to clear out the refrigerator. Oh well, I'll just have to find something for lunch on the road. The shoulder was wide when I left Winfield but it didn't last. Hwy 77 didn't have much traffic and there was a gravel shoulder I rode on when traffic needed to pass. The road was flat and there wasn't much of interest in the scenery. Lots of corn and cattle farms. The biggest excitement was some of the enormous tractors that I had to share the road with. I turned off Hwy 77 onto Hwy 15 for the rest of the ride. At first I had a strong side wind but when the road turned I had a strong tailwind. Today was a hot one and now that I had a tailwind I could really feel it. There were lots of empty cattle trucks rattling by and they were super stinky. Apparently you don't want to be biking in Kansas the beginning of July. That is when most of the cattle gets moved from farms to feed lots. I've heard stories of bikers getting hit with the 'run off' from these trucks. No thank you!
I stopped in Mulvane for lunch plugging in outside Dillon's market. As I was leaving, the town sirens went off announcing it was noon. There was a very wide shoulder which suddenly had rumble strips across the whole thing. They were spaced about every 30 feet. Another left mirror flew into traffic going over these rumble strips. This is the second time I've come across this type of rumble strip in Kansas. They take a gorgeous shoulder and make it completely useless for biking. Perhaps that was the intention. I stopped to move my right mirror over to the more necessary left side. The rumble strips continued through Derby and another 5 miles. The traffic came in spurts and I took the lane whenever I could. I was so grateful when the shoulder returned to normal. The forecast called for temperatures in the low 90's but it was over 100 as I approached Wichita.
I have a number of errands to take care of and found a motel by the airport in the vicinity of many of them. One errand is to attend a Weight Watcher's meeting. Another is to find a Wells Fargo bank so I can deposit a check I received with my last mail delivery. I would also like to look for a new camera. The camera I have, the Nikon P7000, is so awful that I would like to replace it.
I've also been thinking about renting a van, suv or truck to get me closer to home. It will take me 2 months to ride the 1800 miles back to Portland and I would like to get there sooner. After today's dull ride, the idea of scooting through Kansas is more appealing. I found a motel by the airport so I can check with rental car companies and find out what my options are.
The ride into Wichita was really unattractive and I rolled into a Motel 6 getting checked in for $39. They charge an extra $2 a day for a fridge and microwave. It was so hot I was thankful to stop for the day and cool off.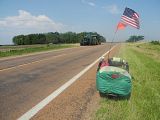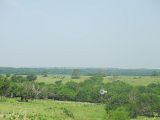 One of the high points of today's ride.
I got off the road so this tractor could pass.