<LINK REL="SHORTCUT ICON" HREF="http://www.sylviahalpern.com/public_html/favicon.ico">
After seeing the horrific scene left by an EF5 tornado in Joplin I was more vigilant than usual about watching the weather. I checked the radar in the morning and was happy to be able to leave Lesterville. This town caters to campers but until the season opens it will remain a dog of a town. The hotel was so lame it didn't even have a name. Both restaurants in town close at 3 pm. I got on the road continuing down Hwy 21. The wind was blowing strong and when I turned toward Centerville it was in my face. There were lots of good ups and down but the scenery was worth it. The forest was loud with the cicada's song. These insects are also known as the 13 year locusts. They spend most of their life underground and come above ground by the millions every 13 years.
I crossed the north, middle and west forks of the Black River. I stopped in Centerville and asked some locals about any impending weather. Just like the owner of the hotel in Lesterville they agreed there wasn't any weather expected until around 8 pm. Plenty of time to get to Van Buren. There was a huge downhill going into Ellington where I got over 40 mph. Once in Ellington I stopped at a Town and Country market to charge up and make some lunch. The skies clouded up while I was stopped. I asked some locals at the market if these newly forming grey skies were anything to worry about. Ellington has a motel so I could have stopped for the day. Everyone thought the clouds would break up and I continued on with only 20 miles to go.
There was a big hill to get out of Ellington that took a long time to crest. Within a few miles the grey skies turned darker and the wind got stronger. I've got front and rear lights that are always on. The skies turned so dark that my front light illuminated the road. It took awhile for the rains to start and not much longer for it to turn to pouring rain. The winds became fiercely strong that were really loud. Trees were bending under the force. I was riding in a forested section with no where to go but get off the road. I was getting absolutely drenched to the bone. Lots of trucks passed but no one stopped. All I could hope for was the storm to pass. This was a very scary situation. Luckily, a MoDot worker saw me and stopped to help. Shaun threw open his truck door yelling for me to get in. The rain was coming down so hard that if it hadn't been for my helmet light flashing he probably wouldn't have seen me. He said there were tornado warnings all throughout the area. I can't believe how fast this storm developed and how powerful it was. We waited until the rains died down a bit and then raced out to load up Myrtle and my gear. Thank goodness Shaun showed up to rescue me. He also told me Hwy 21, under normal circumstances, was the deadliest road in Missouri. Shaun really wanted to get me off this road. I was so grateful for his help. He turned a terrible situation into a good story.
Shaun took me to Van Buren and dropped me at the Hawthorne motel. I got checked in for $45. It was a simple motel without wifi but I was very happy to be there. The rains continued for another hour and then I went out to find wifi. There wasn't wifi anywhere. I didn't have phone service either but my phone had gotten so wet it wasn't working anyway. The next few days have severe weather forecast for the afternoons. Hopefully, I can ride in the morning to a town getting back to civilization.
Lesterville to Van Buren, MO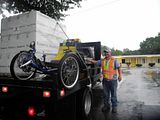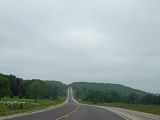 Middle fork of the Black River.