<LINK REL="SHORTCUT ICON" HREF="http://www.sylviahalpern.com/public_html/favicon.ico">
My plan for the day was getting to Tulsa. Last night I received an email suggesting I take Route 66. This had never occurred to me. I took a look at a Route 66 website and saw there was a cool roadside attraction not far off my route. It was expected to be another scorcher and I filled my camelback with ice setting out in very windy conditions. Hwy 412 out of Chouteau has a nice, wide shoulder and shallow climbs through farmland. I was entertained by herds of longhorns grazing along the fence. Anytime I left the grazing land into wooded areas I could hear cicadas singing loudly. After about 15 miles the GPS routed me off the hwy though some very steep hills into Catoosa. Soon I was on Route 66 - the mother road. I found The Big Blue Whale and pulled in to experience a piece of real Americana. This is an old watering hole with a giant blue whale as a swimming platform. There were lots of picnic tables next to the pond. There was a man, Blaine Davis, care taking who turned out to be the son of the man who built it. The whale has fallen into disrepair and aside from keeping it painted not much else has been fixed. Blaine has plans for improvements and internet was being installed while I sat eating lunch. He said any one will be able to sit and enjoy wifi in just a few days. I loved sitting there imagining all the kids that must have had a blast swimming here. The whale looked so happy. Hugh Davis built the Big Blue Whale in 1972 as an anniversary present for his wife. It soon became a favorite spot for kids. The swimming hole remained open until 1988 when Zelta Davis became ill. Now the Catoosa Chamber of Commerce raises money to help maintain this wonderful route 66 attraction.
It was really hot but the wind was so strong it helped to keep me cooler. I took Route 66 south back to Hwy 412 where it merges with I-44. The traffic was crazy with semis and the shoulder was full of truck tire pieces. I crossed the Verdigris River and there was a big terminal where cranes were filling barges with grain and coal. Then I-44 and Route 66 turned south and I continued on into downtown Tulsa. Most of the traffic turned south as well which was a great relief. I turned to the GPS to plot a course to Whole Foods. I didn't really have another reason for coming to Tulsa. The GPS put me on terrific roads through lovely neighborhoods. It was nice to shop somewhere besides Walmart where I spent far more money than I should have. From there it was only another mile to the Peoria Inn. I got checked in for $44. After 45 miles in 98 degree heat I was more than ready to rest and sit in the ac.
Now I need to figure out a route north to Wichita where I can get back to the Trans Am bike trail.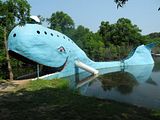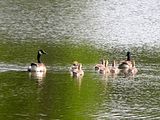 Big blue whale where I had lunch.