<LINK REL="SHORTCUT ICON" HREF="http://www.sylviahalpern.com/public_html/favicon.ico">
I got up early after a wonderful night's rest to watch the men's final of the French Open. Nadal vs Federer again. I never tire of seeing these guys do battle. Even though my man Federer came up short the match was fantastic. Nadal picked up his 6th French Open trophy and 10th grand slam. I used to think it was inconceivable that anyone could beat Roger's record 16 slams but now I'm not so sure.
Ashley made a delicious breakfast and a special Myrtle shaped pancake for me. Very fun! After the match I got packed up and said good bye to my gracious hosts. I had a wonderful visit with Annie and Ashley feeling like I had made new friends.
It was close to noon when I started out and, again, a hot day. I retraced the route into Tontitown for 9 miles. Today the traffic was behaving much better. I got lots of thumbs up. People working in their yards asked me to stop and chat. This is more like it. I turned onto Hwy 412 and through Tontitown it didn't have a shoulder. Once out of town it opened up to a wonderful wide 10 foot lane just for me. Wow was that nice. The landscape went through lush farmland with shallow ups and downs. Today people were giving me lots of love. What a difference a day can make! I got my mojo back.
I made my way into Siloam Springs stopping at Walmart for supplies. Oklahoma is only 3 miles further but I decided to stop finding a Budget Inn on the highway. I checked in for $37. I was hungry and needed to get out of the heat.
Since the tennis is done for a couple of weeks I should get an earlier start tomorrow and make some headway into Oklahoma as I continue to follow the 'Trail of Tears'.
Fayetteville to Siloam Springs, AR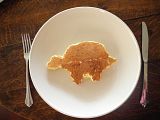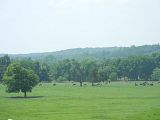 Hwy 412 was a nice road with beautiful scenery.
Ashley made a special Myrtle pancake for breakfast.
Lovely landscape into Siloam Springs.