<LINK REL="SHORTCUT ICON" HREF="http://www.sylviahalpern.com/public_html/favicon.ico">
The Mountain Grove motel was another dog of a place to stay. From the outside it looked worse than it actually was. That is until I turned on the shower and the shower head exploded with parts flying all over the tub. Crazy! Good thing I wasn't in the shower yet. At least there was wifi and I had cell coverage. Walmart was next door which made shopping convenient.
The front desk people in Mountain View told me to make arrangements in advance for motels this weekend. Not only is it a holiday weekend but lots of survivors from the Joplin tornado and volunteers have the motels booked up all through the area. Good call! I wasn't able to find a budget motel at all for Friday night in Springfield where I could stay for more than one night. I got booked in at a Motel 6 for Saturday night. Then I looked at Hwy 60 to see if I could find something on the way in and got booked for Friday night in Seymour. This would mean a very manageable 30 miles today.
I was able to sleep in a bit before getting packed up. My room didn't have a microwave which meant schlepping my bowl of oatmeal to the front office. I finally got on the road by 9:30. It was overcast and cool enough to ride wearing a jacket. Hwy 60 has been a nice road for the last 2 days but starting out of Mountain Grove the shoulder deteriorated slowing me down. Lots of hot rods were on the road headed to a big show in Springfield this weekend. There were also a number of big military convoys going west perhaps headed to Memorial Day festivities. The morning was cool enough that I stopped in Norwood for a cup of coffee to warm up.
My next stop was in Mansfield for a rest where I discovered one of my front teeth had been covered with a blueberry skin from this mornings oatmeal. Niiccee! Leaving there I saw a turtle shut up tight in its shell sitting in the shoulder. I stopped to help out the little guy putting him in a safer place. Usually the turtles come out of their shells pretty quick and start walking away. Not this time. It's possible I rescued a dead turtle.
The shoulder smoothed out after Marshfield. The temperature remained cool enough that it kept the cicadas quiet. Cicadas start their mating calls when temps are above 64 degrees. The skies suddenly turned very dark as I approached Seymour. This is a big Amish community and a couple of horse drawn buggies were crossing the road in the distance. America's Best Value Inn was off Hwy 60 and I pulled in just as a severe thunderstorm started up. I barely got my stuff inside when the skies opened up. There's nothing like good timing.
Mountain Grove to Seymour, MO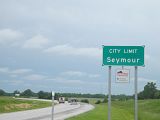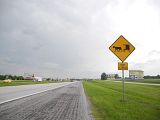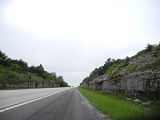 Myrtle locked to a tree outside the motel entrance.