<LINK REL="SHORTCUT ICON" HREF="http://www.sylviahalpern.com/public_html/favicon.ico">
I rode around Wichita enjoying the Arkansas River walkway yesterday. There was the Keeper of the Plains and the Exploratorium on the river. I made my way to a fun Weight Watchers meeting and it was packed. Everyone was interested in Myrtle and my trip. I gave a short summary of the tour and the group had an enthusiastic response. My weight went up 3 lbs which wasn't great but it's been so hot my body is probably hanging on to all the water it can. I'll keep with the program and hope for a better result at the next meeting. Then I found a Wells Fargo bank where I could finally deposit a check I've been carrying since leaving Lexington. Wells Fargo may be the biggest bank in the country but certainly isn't well represented anywhere I've been riding. Then I found a wonderful sushi restaurant in Old Town called Wasabi. I do love my sushi. I also went to a Best Buy that carries a camera (Panasonic DMC-GF2) I been thinking about buying. The camera didn't come with the lens I wanted and then the salesman showed me a Sony (NEX5) that looked good but I couldn't spend $650 without doing proper research and left empty handed. The skies were looking like some serious weather was headed this way and I quickly returned to my motel.
In the afternoon I spent a couple of hours calling rental car and truck agencies to see if scooting across Kansas and eastern Colorado quicker was a good idea. It's not possible to do a one-way trip by car from Wichita and the truck would be about $700 to get to Denver and $1500 to take it all the way to Portland. I'm not in a big hurry and decided to continue riding on to Denver. It will take me about 6 weeks to ride all the way back to Portland. I would like to be back sooner to enjoy the summer in Portland.
I awoke to blue skies and got packed intent on making my way toward Dodge City. This town name evokes the mystique of the wild west. My expectation was a town that paid homage to the life of the cowboy. Today was another hot one but the winds were cooler coming strongly from the north.
As I rode my pedaling began to hiccup. It seemed that the chain wasn't catching the gears but after a few strokes the chain engaged. Just outside of Goddard the chain stopped engaging. Because of a road closure I was forced onto busy Hwy 54. I thought the chain had fallen off and got up to check it out. But no, the chain was fine. I couldn't go anywhere and pushed Myrtle across the highway. For about 20 minutes I stuck my thumb out trying to get a ride back into Wichita. No one even acknowledged me. I turned my attention back to the trike and noticed that the chain was again engaged. My plan was to ride back a couple of miles where I remembered seeing a Starbucks that would have wifi. The chain continued to lose the gear but quickly found it again. When I pulled into the Starbucks parking lot I saw there was a very professional looking bike shop too. What luck! Lee and Jeff dropped everything to help me. Jeff took Myrtle for a ride and quickly recreated the problem. He thought there was dirty grease slowing the SRAM 3-speed internal hub but couldn't help me. Then he made a barrel adjustment and thought he had fixed the problem. I told them about my trip and asked if they would recommend riding on to Colorado. They thought if I kept the SRAM hub in one gear I should be ok. Dodge City isn't at all what I had imagined. They said it has enormous feed lots with giant manure ponds that are so stinky they can be smelt 30 miles away. Going to Dodge suddenly lot its appeal. They didn't charge me, I thanked them and carried on.
I wasn't so sure about their advice and went over to Starbucks to sit and think this through. I called a friend to talk it over with. By the end of the call I had decided to rent a truck and drive back to Portland. The idea of being stranded with a dead hub on a road between small towns in Kansas didn't appeal to me at all.
I called a number of different truck companies and Penske had a truck with the best rate. The truck was back in Wichita and riding there would give me a better idea of how serious my trike problem was. The barrel adjustment didn't make any difference and the problem continued the whole way. It seemed that anytime the chain wasn't taut it lost the gear. I limped into Wichita and using the GPS found the truck rental office. Just as I arrived the chain lost the gear and I couldn't get it to engage again. It had completely failed. Now that is good timing. The guys at the Penske agency were terrific. I reserved the smallest truck available for tomorrow morning. This 4 day trip was going to set me back $1500 with taxes and insurance. Once I explained the situation Kevin allowed me to keep the trike and everything I wouldn't need overnight at the office. This saved me from pushing Myrtle to a hotel and then back again in the morning. Conveniently, there was an America's Best Value Inn a short walk away where I got checked in for $38.
Wow, what a day and a crazy end to my US tour. I have been waffling for a few days about what I wanted to do and where I should end this trip. For the last few weeks, it's either been hot and windy or there's been terrible, severe weather to contend with. This was a big factor in my thinking. Kansas is also famous for some of the most boring and uninspiring cycling terrain in the country. Yesterday I was thinking about ending the tour here in Wichita but changed my mind. I love traveling by tricycle and figured I could keep going for a couple more weeks reassessing my options in Pueblo, CO. Well, today had other ideas.
This certainly has been a fantastic journey. Big thanks to everyone for joining me. I'm not even back yet and already plotting my next tour. Updates will be forthcoming.
Return to Wichita, KS and End of Tour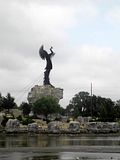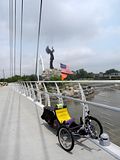 Myrtle with the 'Keeper of the Plains' on the walkway.
Historical marker describing the 'Keeper of the Plains'
Ducks resting on the Arkansas river.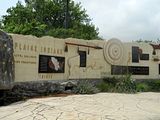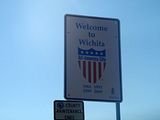 Lee and Jeff of Lees Bike shop.
Plains Indians wall on the river walk.