<LINK REL="SHORTCUT ICON" HREF="http://www.sylviahalpern.com/public_html/favicon.ico">
Getting home was pretty straight forward. It's not possible to rent a car one-way from Wichita so I rented a truck. It took 4 days to complete the drive back to Portland. The first night I spent in Denver, the second in Ogden, Utah and the third night in Pendelton, Oregon. The winds were super fierce getting up to 70 mph coming into Denver. On a short part of the trip leaving Denver and getting on Hwy 84 I saw some touring cyclists. I had a huge truck that was practically empty. There was a crazy headwind wind on an uphill section. I offered one guy a ride but he wouldn't take it. He had another 25 miles to go in brutal conditions. I gave him some fruit and wished him good luck. The area around Ogden, Utah was gorgeous. The hotel I stayed in was surrounded by snow covered mountains and the skies were crystal clear. The drive out of Pendleton was also stunningly beautiful and surprisingly green. I hope to be able to ride this area at this time of year in the future. Some of the views were outstanding. It felt fantastic to reach Portland. I returned the truck and pedaled Myrtle up the hill to my house for the summer. This is the same house I've stayed in for the last 2 summers. I was ready to relax and enjoy Portland and the summer.
My friend Syd was kind enough to let me borrow a rear wheel from his trike while I got mine rebuilt. The SRAM hub had failed and I decided to have it rebuild with a standard hub. This was the second SRAM hub to fail over 35,000 miles. That's a lot of miles but I would rather have something that didn't fail. With the Ecospeed motor I don't feel like I really need it. I rarely used the high gear and only used the low gear when I'm in too high a gear on take-off or climbing an extremely steep hill. I will still need to manage climbs if something happens to the motor and this may require a change to smaller chain rings - we'll see.
One the most exciting events of the summer was coming to Portland. I have been eagerly awaiting the arrival of the ROAMers (Roll Over AMerica). 22 velos from Europe and 20 velos from the US were starting a tour across the country in Portland at the end of July. I was with them the entire time they were in town riding out to their hotel everyday. Myrtle was on call to escort the velomobiles to bike shops or running errands as needed. It was pretty funny having a turtle lead these ultrafast vehicles through town. Here is a direct link to my photo album of all the velos.
The ROAM riders were all terrific and I learned so much from them. One gal, who races velos, took Myrtle for a ride and came back saying she couldn't get enough power from the seat. She explained that I should be sitting closer to the pedals using the seat to get power. We moved the boom in so I could feel my back pushing snugly into the seat. This was very enlightenly. My lower back felt significantly stronger and a pain in my left ankle vanished with this simple change as well. Watching the guys ride I realized that I never go fast enough to take advantage of momentum or aerodynamics. They really made me feel that I could get faster. All of them use heart rate monitors and cadence sensors to maximize their efforts. I purchased both and this has helped me understand more about how I am riding. At first I used the cadence sensor to stay in the 80 rpm range. Then I started moving up the gears until my heart rate was between 115 and 140. This became my strategy for using the motor as well. I found that I could ride much faster with a higher cadence and heart rate. This should also assist in my weight loss efforts.
The start of the ROAM tour was at the Salmon Street fountain on the Willamette River. There was a photo op where Portland proclaimed July 28th as Velomobile Day. A big crowd showed up including media. I tried to follow the guys out of town. They were so fast I couldn't keep up even with the motor. I was sad to see them go and excited to follow their ride across the country.
Back in Portland and Arrival of the ROAMers
Velos outside TerraCycle in Portland.
Velos at the Salmon Street fountain in Portland.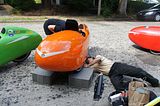 Robert of TerraCycle replacing an idler.
Video of velos in front of the fountain.
Taking Wilfred's Mango for a test ride - Woohoo!