<LINK REL="SHORTCUT ICON" HREF="http://www.sylviahalpern.com/public_html/favicon.ico">
The morning started with a huge thunderstorm. I checked the weather radar and it was a pop up storm with clear skies everywhere else. The storm was made up of a few small cells and each one passed over bringing big rains while lighting up the sky. Then the sun would return until the next cell showed up. This went on for a few hours and I couldn't start riding until after 10:30. It was still raining lightly when I took off but the sky to the west was clear.
I rode down Main St in Pawhuska where some of the buildings had native writing from the Osage tribe which is something I had never seen before. I continued on Hwy 60 which has a very wide shoulder. Because of the rain the ride started in much cooler temperatures but the wind was fierce and in my face. I'll bet it was blowing at a constant 30 mph. After leaving Pawhuska the landscape turns into tall prairie grasses. With all the recent rains the grass was beautifully green. There were a few big horse farms and large cattle ranches. I crossed over the Bacon Rind creek and saw lots of small lakes dotting the valleys. The road had long gradual ups and downs with very few flat sections.
The first and only town on today's route was Burbank. It was 25 miles along and I really wanted to take a break. The town was very small and run down. Town and city halls were both closed. It was hot and I was tired. I turned around and saw a man sitting on a porch. I rode over and explained that I needed to take a break and wanted to charge up my batteries. No problem. Ken Roberts offered to help. I took Myrtle around back to use an outlet and then sat with Ken on the porch to make lunch. He just happen to take the day off to go fishing but usually would be working. The powerful storms had chased he off the water. Ken told me all about the area. The Osage tribe owns all the land and everything in it. When you buy a house you only get the top 18 inches. Anything below 18 inches belongs to the Osage tribe. The tribe has a ton of money but it isn't obvious what they are doing with the money. Pawhuska is a very poor looking town even though it is the county seat. Ken said that many of the large cattle farms are contracted with McDonald's. Ted Turner has a number of huge buffalo farms in the area too. Ken told me that Oklahoma has very strict laws protecting cyclists. Motorists that have accidents with bicycles go to jail. We chatted for over an hour and I really enjoyed hanging out on the porch. I think Ken enjoyed it too. My only regret is that I forgot to get a picture.
I got back to Hwy 60 in the hot sun and crazy wind. It was another 20 miles to Ponca City where I had a good selection of motels to choose from. I was so hot and tired of fighting the wind I pulled into a Super 8 without any plan of price shopping. Some of the other motels were probably cheaper but I knew the rooms would be clean and comfortable. I got checked in for $47 at the late hour of 4:30 just before another huge thunderstorm blew through. There's nothing like timing.
Tomorrow I'll be heading north towards Wichita which should mean TAILWIND!
Pawhuska to Ponca City, OK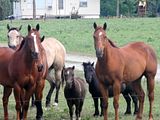 Big oil area all belonging to the Osage Nation.
I love this name in Pawhuska.
More sweet horses with babies.