<LINK REL="SHORTCUT ICON" HREF="http://www.sylviahalpern.com/public_html/favicon.ico">
The Keystone Lake Motel was a very nice, clean and comfortable place to stay. I've been surprised by the high standard and affordability of the motels in this area. When I start riding now I'm expecting it to be very hot. It's just a given and there is no change expected for another week. The smoke wasn't visible today and the sky was clear. Since I was headed north today I had a huge tailwind. The 25-30 mph winds that had been at my side were now pushing me along. The only issue with a tailwind is that I couldn't get any relief from the heat.
I turned north on Hwy 48 and rode along a number of the Keystone finger lakes. It was a beautiful start to the day. There was a wide shoulder which makes me happy. I took Hwy 48 to Hwy 64 into Cleveland. The landscape was farmland between creeks and lakes. Cleveland is a sweet old western looking town where I stopped for coffee. Hwy 64 continued on with a wide shoulder but once it went into the hills the shoulder disappeared. There wasn't much traffic and I had no problems. The next area was the Osage Indian reservation. This tribe is fabulously wealthy from oil revenues. There is a lot of oil on Osage lands. This is the area that the wonderful play August: Osage County takes place. I also passed a prison and the sign warning about hitchhikers being escaped inmates.
I turned on Hwy 99 at Hominy where I stopped for lunch at a market sitting outside using a bench for a table. I talked to lots of people while I charged up the batteries. Back on the road, it was really hot. I left the lakes and rivers behind for drier grasslands. There wasn't much of anything but an occasional oil well being pumped. Then I had an amazing sight. It looked like a hundred wild mustangs were on both sides of the highway. They were quietly grazing but when they saw the trike they started running and running. It was so beautiful. On one side of the highway the mustangs were on top of a hill and they came running towards me stopping half way down. There were so many horses the cars slowed down too. I sat and watched them for quite awhile. I don't think I've ever seen so many horses together. Wild mustangs - wow!
At Wynona there was a cool looking lighthouse church. Services were actually held in another building but I like the idea of a church being a beacon of light even if Oklahoma is a landlocked state.
It was only another 8 miles to Pawhuska. Coming into town there is a veterans memorial park with the biggest American flag I've ever seen. It reminded me of the ginormous Mexican flag in the plaza at Ensenada. Neither of my 2 motel choices had me feeling confident. The Economy Inn was only $30 but had an abandoned look so I booked in at the Black Gold Inn in $37. The room actually turned out to be better than the outside of the motel suggested. With the strong tailwind I managed to get here before 2 pm and it felt good to get out of the heat.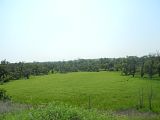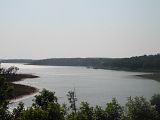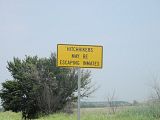 I passed a prison and didn't see any escapees.
Lighthouse church as a beacon in landlocked Oklahoma.