<LINK REL="SHORTCUT ICON" HREF="http://www.sylviahalpern.com/public_html/favicon.ico">
The skies were dark and the online weather radar was lit up with yellow, orange and red but it wasn't raining so I decided to take off. I pulled out onto Hwy 231 at 8:30 intending to go to a cycling hostel in Sebree, KY. I arrived at the Hwy 139 intersection to Livermore when my right front tire felt like there was a rock stuck to it. Unfortunately, there wasn't a rock that I could just brush away. The tire had an unusual bump in it and on closer inspection the sidewall also had a good size gash. This tire was seriously compromised to the point that it needed to be replaced - and soon. Sebree is such a small town that going there didn't make any sense. I looked up and saw that staying on Hwy 231 would take me 25 miles into Owensboro. On the news last night there was a story about Owensboro building a convention center. I was hopeful that a town big enough to need a convention center would also be big enough to have a bike shop. As I continued to Owensboro it began to rain lightly. I passed lots of flooded farm land. There was standing water everywhere. The route was actually quite flat and I made good time. The tire had a shallow bump with every rotation but it wasn't getting any worse. I stopped a couple of times to save little turtles trying to get across the road. There were a few small towns and the traffic was well behaved. Ohio County is much poorer than any of the other areas of Kentucky I've ridden through. Homes had turned into ratty trailers. There were also billboards and posters describing the consequences of cooking meth. The light rain continued on and off. I was in Owensboro by 11:30 looking for a motel thankful that the tire was holding.
Owensboro is a good size city and there were many motels to choose from. I looked at a few on the south side that were very poor with full time occupants. Most I didn't even bother going in to. I made my way to the Budget Inn on the Ohio River and got checked in for $49. Since it was so early in the day the room wasn't ready and I rode over to the visitor's center to find out where the closest bike shop was. The people in the center were great and very helpful. I called Breck's bike shop who had two 20" tires and were willing to swap them out for me. I got directions and headed over. The guys were fantastic. Breck, the owner, already had the tires set aside and dropped everything to get the job done. I was amazed how fast this all transpired. I fully expected to have to order tires to be mailed and be in Owensboro for a few days to take care of it. This was great. The tire liners I had installed in Arizona did their job and the tubes looked new. They didn't have Schwalbe tires but these Kendas will keep me on the road until I can get some Pluses sent to a bike shop on the road. Interestingly, I wanted to switch out the tires in Lexington but Marathons weren't available at that time - anywhere. I tried all kinds of shops and online stores to get either Supremes or Pluses but no one had them in stock. I was hoping to get a little farther on my current tires but that wasn't to be.
After saying goodbye to the bike guys and getting their blessing for crossing the Ohio River bridge into Indiana, I headed back to the river area and rode through a big international BBQ festival that was just setting up. There were probably a hundred smokers getting lit for the weekend. Boy did it smell good. I tried a cup of burgoo and found it to be very tasty. My hotel is only a block from the festival so maybe I'll walk over again later when it is officially open.
I got settled and decided to see if Owensboro has a Weight Watchers meeting. Wow, there was one later in the afternoon. It was at a mall 4 miles away on the south side of town. I am down another 1.4 lbs. Double wow. Owensboro is really coming through for me.
Not a bad day especially considering it's Friday the 13th.
Beaver Dam to Owensboro, KY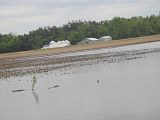 Lots of flooded farms today.