<LINK REL="SHORTCUT ICON" HREF="http://www.sylviahalpern.com/public_html/favicon.ico">
It was cold enough to need gloves this morning. Since it was overcast I started out with my rain outfit on too. My lunch time destination was New Harmony about 30 miles away. I met a nice family yesterday who suggested I check it out. The morning warmed up as the sun broke through the clouds. Very nice. The route was really beautiful and seemed to be mostly uphill. The road had plenty of room and it was in great shape. I got to New Harmony after noon and found the very modern visitor's center on the Wabash River. The ladies there were welcoming and helpful. I plugged in my batteries and went off to explore the town and sites. The river was very high and there was obvious flooding all around the center. The water was stinky and there were thousands of small, annoying gnats.
This town was the site of 2 attempted utopian societies in the 1800's. The first was by the Rappites led by Johann Rapp. The Harmony Society held property in common and believed in a new moral order. They expected the Second Coming of Christ was close at hand and so the Harmonists gave up tobacco and advocated celibacy. This society sold the community land to another utopian and moved to Pennsylvania starting over while making a large profit.
Robert Owen was also influenced by the Shakers. He provided the Harmonites of New Harmony with everything he thought it needed but because Owen did not believe in God, there was no central religious beliefs like the Shakers had. This is apparently important when designing utopian societies. The members of the community lacked the commitment to carry out the mission and New Harmony dissolved in less than three years.
The town still has a spiritual and open feel to it. There is the roofless church which is literally an open air structure run by an woman Episcopalian reverend. There are numerous centers, including the Barn Abbey, available for spiritual retreats. This is a very small town that is packed with history and very unusual architecture. There are also 2 labyrinths. One is stone and the other was designed by the Harmonists in 1820 where you can walk through the trimmed bushes.
This was a welcome detour from my ride getting back to the ACA Transam trail. I left New Harmony after a couple of hours and took a beautiful road into Mt Vernon. It was another 19 miles and I found a motel. I checked into the Mt. Vernon Inn for $53 feeling very satisfied with the day.
Evansville to Mt. Vernon, IN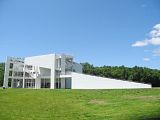 New Harmony visitor's center designed by Richard Meier.
Maybe Myrtle needs a hitch?
Structures from the utopian community of 1807.