<LINK REL="SHORTCUT ICON" HREF="http://www.sylviahalpern.com/public_html/favicon.ico">
I woke up to blue skies. This meant I could move on. There is terrible weather forecast but not until later in the afternoon. I've heard that before. Today I would have a few options for places to stop if the weather looked like trouble. I turned onto Hwy 60 and found a wonderful wide shoulder. I've been on Hwy 60 in Arizona as well as Kentucky and each time found it to be a really nice biking road. Towns with accommodation are within a manageable distance with places to take a break in between. There isn't a lot of traffic either. We'll see if this stretch of Hwy 60 equals my previous experience. A few miles down I pulled into a MoDOT office. Maybe they could give me the name of Shaun's boss so I could send a commendation. The guys in the office were great and even though I only had a first name they sleuthed it out and soon I had the information I came in for.
I continued on climbing a long and sustained hill into Fremont. I was going slow enough to see turtles in the grass making their way to the highway. Using my whistle I got them to turn around. There were lots of horses with babies out along the highway frolicking in the green grass. I made my way into Winona and stopped at a NuWay market to charge up and make some lunch at a covered pavilion in the parking lot. The skies remained clear and the temperature rose well into the 80's. An hour later I was back on the road passing Birch Tree which is a very small town and home of 2 governors - Mel Carnahan and Bob Holden.
The road gently climbed all day but I rarely saw more than 5% grade. I knew there was serious weather forecast for this afternoon so I made a beeline to Mountain View, my destination for the day. Clouds started gathering when I arrived. The Honeysuckle Inn is right on Hwy 60 and I got checked in for $62. The front desk lady said a guy on a trike stayed here recently. Turns out it was Larry who is doing the Ride With Larry raising money and awareness for parkinson's. The motel has strong wifi and I also had Verizon phone service for the first time in days. I had so many messages from concerned friends and family. It was good to hear from everyone and get connected again.
The weather is expected to be severe again tomorrow and so I'll stay put another day. With all the weather excitement lately, I could use a rest.
Van Buren to Mountain View, MO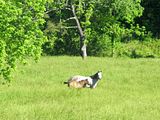 I stopped this beautiful turtle from crossing Hwy 60.
Honeysuckle Inn has wifi.
Highway art in Mountain View.