<LINK REL="SHORTCUT ICON" HREF="http://www.sylviahalpern.com/public_html/favicon.ico">
I was really looking forward to a rest day. The forecast was for severe thunderstorms and tornado watches so I didn't have a choice but to wait it out. Severe weather was just the beginning. The tornado sirens started going off at 4:15 am. Yipes! What am I supposed to do with all my stuff when I run off to a tornado shelter? I stuck everything in the bathtub. Poor Myrtle would have to wait it out locked to a railing in front of the hotel. I met all the other guests in the parking lot. Most people were smoking furiously watching the lightning show on the other side of the highway. We weren't affected and I never even found out where the shelter was. I returned to my room taking everything out of the bathtub. Instead of going back to sleep I turned on the tv to check in with the weather channel. Oh my! There were tornados touching down all around the area in Missouri and Arkansas. They were showing live pictures of towns being destroyed. I tried but couldn't sleep after seeing that. Much of the day there were loud thunderstorms passing through. No chance of sleep still. I may have had a rest from cycling but it wasn't much of a rest day.
In the morning I got packed and on the road by 8:30. There was no severe weather in the forecast for the first time in days. The wind was blowing strong and cold from the northwest. Yes, a headwind. The skies were overcast and there was a misty drizzle most of the morning. This was one of those days when I look at the RV's passing thinking how nice it would be. But then I think about it a bit more and realize I wouldn't trade places for anything.
The first town I came to was Willow Springs. The drizzle was building to a light rain and I stopped at Billy's Junction for a cup of coffee to warm up. I was so tired I was hoping the coffee would wake me up a bit too. As I continued on I saw that the skies were darker behind me than in front of me and that raised my spirits. Lots of hot rods, antique cars and vehicles in all stages of being refurbished passed me today. There were more ups than downs today but the shoulder continued to be nice and wide. It was still chilly when I got to Cabool where I stopped for another cup of coffee with a salad. As I pulled into the El Rancho parking lot I saw a truck with stacks of dogs in small kennels. There were probably 50 kennels in the truck. It didn't seem right and I asked the restaurant hostess if she could call the authorities to check it out. She made a bunch of calls and got someone to go out to find the license plate number. At first, some people in the restaurant thought the dogs might be lost from the tornado in Joplin. The people at the pound said no one should have a truck full of dogs in a parking lot in Cabool. The lost tornado dogs and other pets were being taken to Springfield. I wish I could have stayed to find out the real story.
I had a few options for places to stay today but I was so chilled and tired that when I got to Mountain Grove I called it quits for the day. The Mountain Grove motel was right off the highway next to Walmart. I got checked in for $39. Even though I still need a real rest day I'll wait until I get to Springfield.
Mountain View to Mountain Grove, MO
Paint drawing in downtown Willow Springs.
Coke vending distribution center in Mountain View.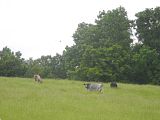 Billboard coming into Mountain Grove.