<LINK REL="SHORTCUT ICON" HREF="http://www.sylviahalpern.com/public_html/favicon.ico">
Planning today's ride presented a number of options that complicated my decision making. Knowing that the temperature was going to be in the high 90's I wanted to make sure my mileage was less than 50 miles. I had trouble finding a town with a motel in the 25-50 mile range. Then I noticed a cool looking area around Keystone Lake. There was a motel with decent reviews at about the 35 mile mark. Excellent. I called and booked a room.
In the morning I puttered around Tulsa taking a beautiful bike trail along the Arkansas River. There was a bike station with hybrids that anyone could use. All you needed was a credit card to release the bike. The credit card would only be charged if the bike wasn't returned. Free bikes = awesome! I continued on the bike trail into downtown where I stopped to check out the beautiful art deco church on Boston Ave. I love art deco and am really drawn to buildings that have a crown. They look finished.
The Arkansas River is surprisingly low. So many rivers are overflowing their banks from the Dakotas to Baton Rouge but the water has been dammed farther up stream. I met some guys who were fishing off a bridge that were really cursing the dam. There were lots of herons and egrets standing in the low water picking off the fish. I also saw sweet turtles sunning themselves on floating logs. The bike trail was on both sides of the river and I took a pedestrian bridge to ride the west side. Then I started my ride to Mannford. I let the gps plot a route that took me on low traffic roads starting with Route 66. There was a cool display that had an oil derrick and a few rail cars from the Frisco line that was also on Route 66. As I left Tulsa the traffic quieted. At first there were long, gradual ascents. On one descent I was riding on a wide sidewalk and got up to 34 mph. I could have gone faster but, luckily, I saw that the sidewalk didn't have a cut out where it met the cross street and put on the breaks sooner.
On most of the ride I took 41st Street through Prattville. I could have taken Hwy 51 and I'm sure that would have been easier. 41st Street was very hilly and with the extreme 97 degree heat I was suffering plodding along so slowly up the steeply graded climbs. 41st Street turned into Coyote Trail that went through very poor areas and the road surface deteriorated. I had to use the brakes more than I wanted on the downhills to avoid huge potholes. The sky had a white and grey color. This was caused by smoke from the fires in Arizona. The smoke has traveled over many states to arrive in the middle of Oklahoma. Amazing! The wind was also gusting at 20-30 mph from the south. Tough conditions! Eventually I found my way to Hwy 51 and into Mannford. I stopped at an IGA on Keystone Lake for supplies before arriving at the Keystone Lake motel. It felt good to land and finally get out of the heat when I got checked in for $39.00.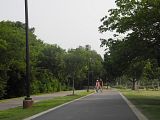 Beautiful art deco church.
Riverside bike trail - Tulsa.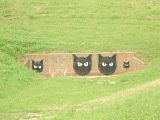 Heron and turtles in the Arkansas River - Tulsa.
A long road on another hot day.