<LINK REL="SHORTCUT ICON" HREF="http://www.sylviahalpern.com/public_html/favicon.ico">
The people at Tradition Inn in Farmington were very helpful. They let me store Myrtle and some of my gear safe and sound in a conference room. My room didn't have a microwave or fridge. In the morning I made my usual breakfast using the dining room microwave. This seemed to annoy the breakfast room monitor who kept giving me the evil eye. I got going at about 8:30 under blue skies and fierce head winds. I changed my route from the ACA recommendation when I found a shorter way with less climbing. The ride was straightforward. I started on Hwy 221 into Pilot Knob through Doe Run along the Little Doe Run creek. There were hundreds on motorcycles going to a rally outside Farmington. Most of the motorcycles were Harleys in all kinds of custom creations. The wind was so strong that I wasn't able to go more than 10 mph on a -7% descent. I stopped in Pilot Knob at Davidson park and used a covered table that had electricity. The winds were crazy and making lunch was difficult. The skies started clouding over as I continued on. Hwy 221 turned into Hwy 21 at Ironton. A few miles later I stopped in Arcadia to pick up some groceries and I chatted with lots of people. I was warned there about a big thunderstorm on its way. There was still another 20 miles to go to get to Lesterville.
Missouri really loves it's rumble strips. There are rumble strips covering the shoulder line and the yellow lines between directions of traffic. Most of the time I could straddle the strip between one of my front and rear wheels. But sometimes I just had to take the lane because riding on the strip was too uncomfortable. It didn't take long and I was climbing again. Today's hills weren't as difficult as yesterday. The first big hill took me to the highest point in Missouri at 1350 feet. The view was limited and I got up to 38 mph on the downhill protected from the wind. The shoulder disappeared but being Sunday the traffic was light. The skies kept getting darker but, mile after mile, it didn't rain. The last 6 miles were a wonderful gradual downhill into Lesterville. There is only one hotel this time of year and it is pretty much a dog. Luckily I stopped at the grocery store because nothing was open. The room doesn't have a microwave so I pulled out my stove to heat up dinner. Nothing like camping in a hotel room.
I'm hoping the storms predicted for tomorrow hold off until I get to Van Buren. It would be hard to stay in this one horse town for more than one night.
Farmington to Lesterville, MO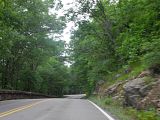 Highest point in Missouri.
Lots of motorcycles today.
Welcome sign on any ride.