<LINK REL="SHORTCUT ICON" HREF="http://www.sylviahalpern.com/public_html/favicon.ico">
There wasn't anywhere to lock Myrtle outside the hotel so I took a couple of chairs to run the lock through. This crazy looking mess was right outside my room and I figured there was no way someone could lift it all without making a lot of noise. The Cruze hotel in Hodgenville didn't have much to offer. The owner had no idea what wifi is and he laughed when I asked about a microwave. In the morning Myrtle was waiting to be released from the cozy chairs. Then I headed to McDonalds instead of pulling out my stove. I've heard they now have oatmeal and that's all I ever eat in the morning. The oatmeal is $2 and comes with raisins and apple pieces. It took 2 orders to feel like a real breakfast. I drank coffee, watched the news and used the wifi to reconnect with the world.
It was already very hot when I got going for real. Since I didn't have any cash I needed to find a grocery were I could use my debit card to get cash back instead of getting dinged $10 for using an out of network atm. The closest grocery is in Elizabethtown so off I went in search of cash. I took Hwy 61 which had a nice shoulder where I had my first Amish sighting. A horse pulling 3 guys in a cart wearing the telltale straw hat and blue shirt on the opposite shoulder. They pointed and seemed surprised to see me.
I arrived in Elizabethtown and took a side street but flood waters forced me to find another way into town. It didn't take long to find a grocery and get my cash. The air was so muggy I could only buy a couple of oranges. Anything else would either get moldy or soggy. The next thing I needed to find was the closest place westward that would offer accommodation. Leitchfield seemed like a good place and I started down Highway 61. The temperature climbed to 86 and with the humidity it felt much hotter. Coming into Stephensburg, I pulled into a driveway to let traffic pass. The homeowner came running out and offered me a glass of cold lemonade. It was so hot lemonade was just perfect. Judy Smith has a son that does triathlons and wanted to see the trike. Very nice lady! As I rode on, I passed a dead alligator in the road. This seemed so unlikely that I flagged down a guy in a truck. He was a hoot. In his best Kentucky accent he said he'd been up and down this road 4 time to make sure he really had seen what he 'sar' . Yup - it's an alligator all right. And it's still dyaed. He's lived here all his life and that was the first alligator he'd seen.
There were some good ups and downs coming into Leitchfield and I made my way to the Hatfield Inn. This hotel is $60 which is more than any other hotel I've stayed at since leaving Lexington. After lasts night's experience I was happy to pay extra for a nice room. It will feel good to get a sound night's sleep. I also found out that I gained an hour. I'm now in Central time. Yoo-hoo!
Looking at the map I'm a little concerned about finding motel accommodation for the next few days. This is a recurring issue for me using the ACA maps. The maps seem to be designed for bikers that like to put in more miles than I do and also want to camp regularly. I'm happiest riding 40 miles per day and staying in motels. I may need to find my own way for a few more days - we'll see.
Looking even further ahead, I see there is a ferry crossing the Mississippi into Illinois. The river is so high the ferry is closed until further notice. I'll have to find out what the detour is but that is a few days out. As I approach the Mississippi I'll probably need to ask about road closures due to flooding as well.
Hodgenville to Leitchfield, KY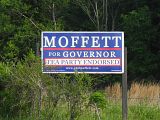 Amish guys continue staring as they pass.
Amish guys coming into Elizabethtown.
Tea Party is represented.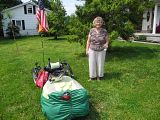 Remington factory outside Elizabethtown.
Guess I better find another way.
Judy Smith of Stephensburg offered me a cool glass of lemonade.