<LINK REL="SHORTCUT ICON" HREF="http://www.sylviahalpern.com/public_html/favicon.ico">
I awoke very late in the morning and seriously could have slept longer. I got up just in time to book the room for an additional day before the 10:00 check out. Then I took the day to ride around historic Bardstown. It's a nice looking town. They have a large bourbon heritage center and whiskey museum. I passed on the tasting rooms. Bardstown has Amish roots, civil war history and was home to one of America's most popular song writer's, Stephen Foster. It was a nice day and I also pulled into a salon for a long overdue pedicure. Then I shopped for supplies and prepared for the next day's ride.
After another good night's sleep, I got back on the road under warm and muggy conditions. The temperature was expected to be in the high 80's today and it was already in the 60's first thing in the morning. The scenery was classic lush, green Kentucky rolling hills. There was lots of horse farms although not as luxurious as around Lexington. Even though I had a map and GPS to find my way I still got confused and ended up off the ACA route. I had lunch in the sweet little town of New Haven sitting outside a diner making my own meal. Then I went to the library to use the internet while my battereis finished charging. I continued on the Lincoln Heritage Highway making my way to Hodgenville. Abraham Lincoln was born and spent his early childhood years in this area. I stopped at a national park devoted to very small cabin where he lived with his parents and older sister. The cabin was remade from the original logs. It is so small I'm not sure a car could be parked in it. From there I stayed off route taking 31E into Hodgenville which is dedicated to Lincoln with a large statue in the town circle, museum and gift shops. I stopped in at the chamber of commerce to get accommodation information. There is an Inn at the Abraham Lincoln memorial that enshrines his birth cabin. It is locataed an easy 3 miles out of town. The park is really beautiful and the memorial is very stately. There are 56 huge, formal steps to a concrete building whose only content is an impossibly small cabin that housed a family of 4. The monument felt like a mausoleum with great formality. I realized that I take Abraham Lincoln for granted. This man is one of the most famous leaders in the world. All you have to say is 'born in a log cabin' and who else could you be talking about? Good' ol truthful, honest, squeaky clean Abe. A man from very humble beginnings with little education rises to be not only President but one of the greatest statesmen the US has ever produced. It's a great, hopeful, heartwarming and very American life story.
I walked over to the Nancy Lincoln Inn which is on the property to see about a room. They have 4 small primitive cabins for rent with a separate shower building. The cabins are about the size of Abe's family home and go for $70 a night. I tried to get the price down but the guy wouldn't hear of it. Then I asked to look at one and it turns out they aren't ready to rent for the season yet. There was a severe thunderstorm warning on for the next few hours and that made camping undesireable. After touring the grounds a little more I rode to a sketchy looking hotel and asked about room. It was getting to be 4 pm and I needed to find a place for the night. $29 and it wasn't worth a penny more. It didn't seem unsafe just really old and musty smelling. The owner didn't take credit cards and all I had was $30. If I didn't have the cash the closest hotel was in Elizabethtown which is another 15 miles. As skanky as this hotel is I felt lucky to be safe from the impending storm. The incoming weather warnings included golf ball size hail which is an adventure I'm happy to miss.
Bardstown to Hodgenville, KY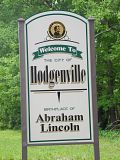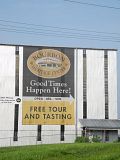 Whiskey museum in Bardstown.
Lots of bourbon to taste.
On the way out of Bardstown.
Monument to Lincoln's birth cabin.
Birth log cabin in the masoleum.