<LINK REL="SHORTCUT ICON" HREF="http://www.sylviahalpern.com/public_html/favicon.ico">
My first day riding on the TransAm. I've been looking forward to this for awhile. Mostly because I expect to meet other cyclists. Even before leaving the hotel I met an English couple that were traveling east. I got packed and on the road by 8:30. As soon as I turned onto the road I spotted 2 recumbents. I turned up the motor and quickly caught up to Tom and Wayne. We stopped to yak for a bit and then determined we were both headed west and continued riding. I had to use my motor more than usual to keep up but I really enjoyed riding with these guys. I would fly downhill and the guys would catch me on the uphill. There was a lot of uphill today. Much of it was in the 12-14% range. One crazy hill got up to 19% - ouch! There were unmortared stone walls and bright green rolling hills. Today the landscape had more cows than horses. There were lots of ponds with turtles sunning themselves on logs. The ACA map had directions which required constant attention. At one point Wayne flew past a turnoff which forced Tom to race after to catch and reel him in. I continued on and found Freedom Baptist Church which had outdoor covered tables with electicity. The batteries were charged while I made lunch in the sunshine. It was a beautiful day with a light wind. The forecast called for rain but, so far, this was perfect cycling weather. After lunch I found the guys leaving a deli. The hills just kept coming. There was a turnoff I saw only because of the GPS. It looked more like a driveway than a road. Some of the directions were very confusing. What made them even more confusing was a highway had been moved. There was the old highway and then the 'real' old highway. The GPS was of no help because the new highway wasn't even finished and didn't show up. I turned at what I hoped was the right road. The Bryantsville post office was in the next block where I pulled in for directions. A local woman gave me the most complicated directions but, luckily, escorted me the correct way. The clouds started gathering more seriously but still there was no rain. I rolled passed Harrington Lake with lots of docked houseboats. The road turned and curved into sweet Burgin. From here Highway 152 became more crowded than I was hoping for coming into Harroldsburg. I pulled over a number of times to let the backed up traffic pass by. It was somewhat frustrating but eventually I made it into Harrodsburg. I arrived before 5 and headed to the post office to pick up mail that had been forwarded. Unfortunately, Harrodsburg's post office closes at 4:30 and I was 5 minutes late. Since when does a post office close at 4:30? No worries, it's open on Saturday too. My next task was to find a hotel. I pulled into the Bluegrass Inn and was quoted $45. It wasn't as nice as the hotel in Berea but I decided to take it. The room is well used but comes with a full kitchen. The owner was nice enough to offer his laundry room to store Myrtle safely.
I've heard a lot about Shakertown and I'm going to take a trip off route to explore. Tomorrow, the weather is threatening a big storm so we'll see if it happens.
Today, it feels great to be on the TransAm. The guys are camping and also taking tomorrow off. I'm hoping to see them on the road Sunday.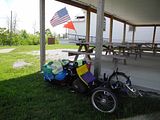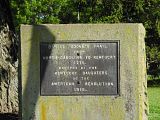 Lunch at Freedom Baptist Church.
Berea plaque in town center.