<LINK REL="SHORTCUT ICON" HREF="http://www.sylviahalpern.com/public_html/favicon.ico">
Powerful winds came from the north and it was colder than I expected this morning. The skies were sunny and the road was dry for a change. There was a lot of traffic getting out of Mt. Vernon. I used the GPS to plot a course and, for some reason, it presented a 48 mile route for a town that was only 24 miles away. I've got the GPS set to avoid unpaved roads and freeways but that wouldn't account for the crazy result. I switched to my itouch to make sure I was on the right road. In another 7 miles I was crossing a toll bridge over the Wabash River into Illinois. Interestingly, there wasn't anyone manning the bridge and all toll tickets are mailed. I'm guessing there won't be a ticket coming to my mailbox.
After getting a picture with the Welcome to Illinois sign I started seeing lots of flooded farmland. The road had recently been repaired probably due to water damage. The flooding was extensive. The road was thickly bordered with corn cobs and plant husks. There were dead farm animals, mostly hogs, laying in the corn debris. The scene was really stinky. I made my way into New Haven ready for a cup of coffee. This town had been badly flooded and nothing was open. Many of the buildings were still surrounded by sand bags. I continued on Hwy 141 into Omaha. This road was busier than I was hoping for and I had to pull over occasionally to let semis pass. There was so much road kill I felt like I was on a death road. I must have passed 15 dead dear. There were skunks, possums, squirrels, raccoons, dogs, all kinds of birds and every size of turtle. I think all the animals were displaced in the flooding and the road may have been high ground. It was really stinky. The water was stinky and all the road kill was stinky. But there was also lots of jasmine in bloom that worked like a deodorizer. It was a very welcome respite from the stink.
By the time I got to Omaha I was out of the flooded areas. I was also hungry and needed to take a break. I pulled into a trading post and used the furniture for sale in the parking lot to make my lunch. The skies became clouded over and it started to look like rain. The winds were also picking up. Within an hour I was back on the road headed down Hwy 45 into Eldorado. This road was even busier but the traffic came in spurts. Luckily, I only had 10 miles to go to get to Eldorado. From here I found a bike path that may have never been used before. I had to negotiate through fallen limbs, tall grass and weeds that were growing in the crushed rocks. I actually had to stop and pull away branches that had gotten stuck under the trike. Too funny. I got back on Hwy 45 into Harrisburg on a 4 lane road that had a huge shoulder. It didn't take long and I found a Super 8 and got checked in for $54.
Welcome to Illinois!
Mt. Vernon, IN to Harrisburg, IL
Another big blue bridge - this one over the Wabash River.
It will be a fine trick if I get a bill in the mail.
Flooded farm land and oil pumps.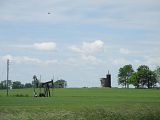 New Haven still had sand bags piled up.
This is what the landscape should look like.
Unused bike path out of Eldorado.