<LINK REL="SHORTCUT ICON" HREF="http://www.sylviahalpern.com/public_html/favicon.ico">
I awoke in time to watch the women's final of the French Open. This was an unusual match up with an outcome no one could have predicted. Li Na of China is the 2011 women's champion. Good for her. I wonder how many people in China were watching?
Even though it was already hot I got going and on the road around 11 am. It was Saturday and I didn't expect a lot of traffic on my way to Fayetteville. I crossed Wal-Mart Blvd and some big Walmart logistics buildings along Walton Way. There was lots of construction as I left town around the airport getting to Hwy 112. The traffic was surprisingly impatient. These people were in air conditioned cars on a road that wasn't very busy sounding their horns and yelling at me. All they had to do was pass me. Anytime traffic backs up just a few cars I always pull over to let everyone pass. Today cars were on my ass expressing rage and judgement when all they had to do was go around me. Then I got pulled over by the police in Cave Springs. The officer said angry calls were coming in about me. He actually checked my license running it to see if I was a criminal on the loose. What did he think was going on? Maybe he located a terrorist on a tricycle? This was crazy! The only other time I've experienced this kind of anger was crossing the Astoria bridge over the Columbia River into Oregon. That bridge is 4 miles long with no shoulder and unrelenting traffic. Certainly no place for a bike and it was understandable that motorists were angry. I continued on and the motorists didn't give up letting me know what they though of me being on the road. Motorcyclists were also giving me grief and these people weren't even wearing helmets. Yeah - I'm the crazy one!?! There just wasn't enough traffic to warrant any of it. This was the worst experience of this trip so far. I also met a nice cyclist out for a day ride that let me vent - thanks Jim!
Eventually I find my way into Fayetteville. It was really hot getting up to 95 degrees as I made my way to my hosts house. These are friends of Walt who hosted me in Austin. Walt was so thoughtful to think of me and make the introduction! Annie and Ashley were waiting outside and had made room for Myrtle in the garage. Annie handed me a glass of cold water and it felt good to get out of the heat. They showed me to a very comfortable guest room and let me do laundry. I just met these people on the recommendation of a friend. It's amazing how generous people can be. Ashley is a professor and Annie is a historian at the University of Arkansas. After a terrific dinner of copper river salmon and lemon meringue pie we took a drive around town. They took me on a walking tour of the campus. Arkansas is all about Hogs. The school does a cool thing for every graduate chiseling their name into the walkways around campus. The temperature had finally cooled off and it was nice to walk. Ashley told me about a ecotour company he started. His discipline is entomology and his love is photography. This company takes visitors to remote areas looking for unusual insects learning about photography. Check out bio photo experience. His photos are wonderful. We all had a nice evening with welcome, stimulating conversation.
Bentonville to Fayetteville, AR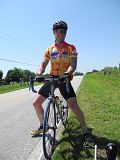 Jim was nice enough to let me vent about the angry motorists.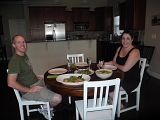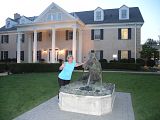 Everyone that graduates gets there name engraved in a University of Arkansas walkway.
Sitting down to a wonderful dinner with Anne and Ashley.