<LINK REL="SHORTCUT ICON" HREF="http://www.sylviahalpern.com/public_html/favicon.ico">
The Stone House B&B was a very nice change of pace. The owner, Sandra, has the place beautifully decorated and it was quite comfortable. I slept well and came down for a full breakfast which I shared with another couple from Portland. They were in Chester doing genealogical research. I really enjoyed our conversation. Then I got Myrtle packed for the road. The forecast was for thunderstorms with lots of rain but the skies were clearing. Who knows what will happen later but, for now, I was feeling optimistic. Sandra offered to escort me over the bridge following in her car with the flashers on. Very nice. The bridge was longer than I expected and I was grateful for her help.
The first 8 miles were along flat farmland and that was last flat land I saw all day. There was a doozer of a hill into St. Mary where I stopped to top off the batteries outside a VFW lodge. It didn't take long and I continued on riding some of the most difficult climbs of the trip. I was in my lowest gear often today and that was a first since I added the motor. The climbs weren't real long but they were all between 12 and 20%. Wow o wow! I'm not even in the Ozarks yet. It kept on and on. The scenery was nice and the weather was fantastic. I also got over 40 mph going downhill. The only worry was that I was using the batteries much faster than planned. Doing these hills without the motor was unthinkable. I pulled into a home where everyone was outside working and they were very welcoming. I have never done this before. After explaining about the motor and that I needed an outlet they were eager to help. My timing was excellent because they also had the grill fired up for lunch. I topped off 5 amps and continued on. Usually I get 2-3 miles per amp. Today, for the first time, it was less than 2. I went another 10 miles and pulled into the Tiger Ridge restaurant. It was getting hot and I needed a break. This is an upscale restaurant owned by the Crown Valley winery. It is in a lovely setting and I charged up again while getting something to drink. The people were very nice. One woman sung me a song about Myrtle the Turtle and Flip the Frog. I've been thinking I need a theme song and this one has possibilities. It was a fun stop. There was still another 15 miles to go and the hills didn't quit. I didn't see any cyclists on the road today all the way into Farmington..
I had read about a cycling hostel in Farmington called Al's Place and I was looking forward to staying there. The hostel isn't open but a new bike shop across the street is. Then I looked to the GPS and followed directions to a Days Inn but this wasn't open either. The next closest motel was Tradition Inn. It wasn't far and the Spokes restaurant was next door. I thought this was a good omen. I got checked in for $62 and then went to Spokes for dinner.
After all the climbing today I am exhausted and in need of a good nights rest. The weather is still threatening thunder storms for the next few days. We'll see what tomorrow has on offer.
Chester, IL to Farmington, MO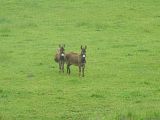 Stone House is a lovely place to stay.
I was last on the Mississippi River Trail in Texas.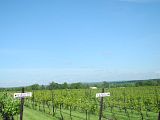 Vineyard outside Coffman.
Outside of Spokes next to my hotel in Farmington.
Nice collection of bird houses.