<LINK REL="SHORTCUT ICON" HREF="http://www.sylviahalpern.com/public_html/favicon.ico">
Typically, I wouldn't even consider starting out on a day like this. It was wet, cold and grey this morning when I got Myrtle packed up. But I really don't like bridges. Especially old, long bridges with no shoulder. Being Sunday morning, I figured this would be the quietest time to get across the Big Blue bridge into Indiana. I mean, who goes to church in another state? The ride across the Ohio River was uneventful and soon I was going through flooded farm land getting wet. The rain was light but constant. There were many roads I could have turned on to get to Newburgh but each one I passed looked to be in terrible condition so I continued on to State Road 66 turning at Reo. The road had a reasonable shoulder and there wasn't much traffic. There were some real yahoo's on this road though. 3 different diesel pick-ups drove along side and then punched it so I was enveloped in black exhaust. Welcome to Indiana! I couldn't help but notice the trucks also had Christian bumper stickers. Nice touch. At this point I was happy for the rain to wash off the grime. As I turned on Hwy 66 I was met by a stiff headwind. The wind was so strong the cars coming towards me didn't need their window wipers. When the rain started for real I found shelter at an elementary school. The rain didn't last long and I continued on. There were a few small towns as I made my way into Newburgh. I took the separate bike path into this upscale town on the very swollen Ohio river.
I pulled into the River Grille Restaurant and the owner greeted me enthusiastically. Jacqui was excited about my story and called the local newspaper to see if anyone was around to do an interview. Luckily, no one was around. I ordered breakfast and a family came in sitting at the next table. We struck up a conversation. It was really nice to meet locals and have a meal with company. They told about a town called New Harmony that sounds really interesting. I might check it out tomorrow.
I continued along the river and then onto Newburgh Rd into Evansville. It wasn't far and I got to ride on an unopened, freshly paved, expanded road for a few miles. That was fun. I let the GPS guide me to a Super 8 motel in the east side of town. It wasn't even 2 pm but they had a room ready and I got checked in for $48. It felt good to get out of the rain and I really needed to warm up.
Owensboro, KY to Evansville, IN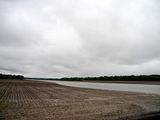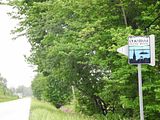 Crossing the Big Blue Bridge out of Kentucky.
Bike path along the Ohio River coming into Newburgh.