<LINK REL="SHORTCUT ICON" HREF="http://www.sylviahalpern.com/public_html/favicon.ico">
I had already decided to take a day off in Carbondale and it turned out to be a rainy day that probably would have a delayed me anyway. Good timing is always welcome. Looking ahead, the weather is going to be a problem for another week. There is a huge thunderstorm system making its way east and I don't think I'll be able to avoid getting wet. I certainly can't sit still for that long so I'll be riding in the rain.
I got up early this morning and on the road by 8:30. The skies were clear but the forecast was for a severe storm in the afternoon. The road into Murphysboro was flat and after that it had some stiff ups and downs. The traffic was calm although there were lots of coal trucks. I kept expecting to have them pass where I was but it never happened. The scenery was beautiful and green except for all the little gnats that bothered me anytime I rode slower than 10 mph. At one point a leaky ammonia truck passed me and I almost passed out. My eyes were tearing and it seriously made me gag. Nice job buddy! I continued on in this state for another mile before the smell dissipated.Wow was that something. The temperature got up into the 80's and the sidewind kept me cooler.
I took a break for lunch in a parking lot where a tree had been cut down into sections. I used one section as a table and one section as a chair. When on the road one improvises. I'm back on the ACA route which didn't appear to have many towns and I wasn't sure about charging opportunities. I used restraint to get to Chester on a single charge. I didn't see any cyclists. I read a few journals looking for ideas for a place to stay. Many people had stayed at the Stone House B&B. B&B's are usually out of my budget but since my last 2 nights were so inexpensive I felt ok spending a little more. The B&B was high on a cliff above the Mississippi River with a terrific view. I met the owner Sandy and she showed me to my well appointed room. I got checked in for $65. Then she gave me a map of the town and showed me what was worth seeing. This town is home to the creator of Popeye, Elzie Crisler Segar, and all his cohorts. There are many statues around town of Wimpy, Olive Oyl, Sweet Pea and Popeye. I enjoyed riding around but the weather was turning and so I made a beeline back to the B&B for the night.
Carbondale to Chester, IL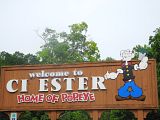 Lots to pay attention to.
Coal being dumped on to conveyers to load on to barges down the Mississippi.
Popeye - the main man in Chester.
Chester bridge over the Mississippi.