<LINK REL="SHORTCUT ICON" HREF="http://www.sylviahalpern.com/public_html/favicon.ico">
I didn't sleep so well. The walls in this Super 8 motel were thin. I could hear everything in the rooms around me. The guy next door got up especially early and went out to the lobby for the continental breakfast. Back and forth, the door slamming shut every time he left and came back. Uugghh! Sleeping was a lost cause. Blurry eyed, I got packed up and discovered a flat tire. I typically get a flat a year so this was something. Upon closer inspection it was only 2/3's flat and I decided to pump it up before patching. I keep all my tire changing tools on the trike in a Fastback bag hanging off the Greenspeed neck rest. I pulled out the pump and right away saw that the handle was missing. I found it in the bag and screwed it back on. Then I noticed that the clear plastic cover that fits over the gauge as well as the critical black rubber tube were missing. These I did not find in the bag. What!?! This pump was useless. The pump has been sitting in the Fastback bag since that last flat I changed back in Los Angeles. I went out to the street and saw a tire store wheeling Myrtle over. The guys were happy to help and it didn't take long to get the tire pumped up. Harrisburg doesn't have a bike shop and I would have to get to Carbondale to replace the pump. It was a risk but I had a feeling that someone had been playing around and sabotaged my pump while taking air out of the tire.
It was closer to 10 am when I headed west on Hwy 13. I made a stop at a bike rental shop but Randy didn't sell pumps. He gave me his card and said to call if I needed a ride. Very nice. The tube was holding and I figured by now I would see evidence of a puncture. I carried on feeling more confident about my chances. It was a beautiful day with temperatures in the 60's and the route was quite flat. I rode through lots of wildlife areas. Today there was, thankfully, no unusual road kill.
At about the 22 mile mark I found a church that had a large covered area with lots of tables and electricity. I joined a young couple that work in the area and were taking their lunch break. While I was there a couple of tourers rode passed. I tried to get their attention but they were too focused. After lunch I continued through Marion which is a good looking town. The road had a huge shoulder and I was really enjoying the ride. I took a break at Crab Orchard refuge which is a huge fishing and recreation lake. It was really beautiful.
Once I got to Carbondale I decided to find a motel before looking for a bike shop. After stopping at a few places I got checked into an America's Best Value Inn for $37. I was so tired I decided to book in for 2 nights. After getting settled I found the Bike Surgeon in downtown Carbondale. The guys here were very helpful and excited to talk to me about touring. He said the shop gets tons of business from the TransAm bikers. I purchased a new Topeak Morph pump which I like because it has a gauge. A few people stopped to talk about the trike and the motor. It was a very nice visit. My tire held for the ride to Carbondale confirming for me that someone messed with the trike overnight. This was a first in all the time I've been touring.
I was really tired and looking forward to relaxing for a day.
Harrisburg to Carbondale, IL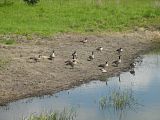 I loved the way this small lake is bordered by high grasses.
Taking a break at Crab Orchard refuge.
Another view of Crab Orchard lake.
Lots of sweet smelling jasmine again today.