<LINK REL="SHORTCUT ICON" HREF="http://www.sylviahalpern.com/public_html/favicon.ico">
What a fantastic summer I had in Portland! I was able to move into the same uber-comfortable house in the West Hills I have stayed in for the last 2 years. The weather was wonderful and I did a ton of riding. The biggest ride was out to the coast in August for the Recumbent Retreat. I took the Hwy 30 route along the Columbia River to ensure battery charging opportunities. It was really nice to see all my recumbent friends and, as always, participate in the delightfully fun lighted bike parade. The weather was perfect and this year's retreat was the best ever. I had company on the way back to Portland with another triker. This was great. Dawn and I took 2 days for the trip and spent the first night at a newly opened bike hostel in Clatskanie. The owners of the Bike Inn weren't home but told us where to find the key and to make ourselves at home. We were the only people there and it was quite comfortable. The only downside was that Clatskanie had opened a sewage plant and the air was somewhat pungent.
On our second day we took a break at Rainier Veteran's park which is in a lovely setting right on the Columbia River. There is a public bathroom with an outlet and I took my batteries in to top them off. We made a very tasty lunch and then I went back to the bathroom to clean everything. Boy was I surprised when a man stopped me from entering the ladies bathroom saying it was closed. I explained that I needed to get my batteries out and he suddenly got a very weird expression on his face and softly said 'Oooohhh ..... batteries'. I poked my head into the bathroom to find a policeman kneeled on the ground hunched over my batteries with a knife in his hand. When he looked up I could see immediately he was extremely frightened. He quickly approached me saying he needed to see my id - NOW! I told him about my electric bike and he escorted me back to the pavilion where I had left my wallet. As we were walking he canceled the call for the bomb squad. Yes, he actually thought my batteries were a bomb - plugged into an outlet. He tried to tell me I should be ticketed for theft of service since I was using an outlet in the public bathroom. Really!?! Once we got to the pavilion he could see what was going on and relaxed. Dawn's expression when she saw me approach the pavilion with a policeman was priceless. After calling in my id and getting the 'all clear' he actually started to show a sense of humor about the situation. I ended up getting a picture with him. This was probably the most excitement Rainier has had in a long time. Terrorists on trikes!?! Oh my!
After returning from the retreat I set about making plans for my next tour. I had roughly thought about starting in Singapore riding through Malaysia and Thailand into China ending in Beijing. That sounded like a fantastic trip and I bought an airline ticket for the end of October. In September I took Myrtle into Coventry Cycleworks to have new brakes and shorter cranks installed. I have continued to lose weight and figured the shorter cranks would give me another 1/2 inch of boom. At this point I had less than an inch of boom to move in but figured with the shorter cranks I would have enough room to get me through another tour. Boy was I in for a surprise when I sat in my trike with the shorter cranks and the boom didn't have to be moved. Yipes! I really had it in my head that I could wait until next summer to buy a new trike as a reward for losing 'all' the weight. It never occurred to me that Myrtle would ever be too big but that is exactly what was happening. My weight loss has been slow but steady since January and I expect it to continue. I'd lost about 30 pounds for the year at this point with another 20 to go. There was no way I could do a lengthy tour with this trike. It sounds crazy but Myrtle is too big!
There were more nagging issues going against me for this trip. I wanted to try this tour with the electric assist. Unfortunately, the batteries can't travel by air so I would have to buy another set from China and have them shipped to my hotel in Singapore. Could I trust that the batteries would arrive? At $650 for the set this could be risky. It was a risk I was willing to take until I asked the battery company (Ping) about making sure the connectors that my system uses could be attached. Ping doesn't carry the connector for the Ecospeed motor. Ecospeed offered to wire up the connectors and suggested having them soldered on in Singapore. This may be an easy proposition for a lot of people but it felt too much for me. That was strike 2.
Strike 3 was extensive flooding in Thailand. At first when I saw the reports I wasn't concerned because there is flooding every year during monsoon season. But when I read reports that 2/3's of the country was under water and millions of people were affected I realized this was a very serious situation. It takes a long time to recover from floods and I decided this was not the time to go to Thailand.
Strike 4 against my trip turned out to be the most daunting. A muscle pull in my butt. I've pulled lots of muscles and figured this would take, at most, a couple of weeks to heal. I certainly never expected it to take 3 months. This has been a very difficult and painful lesson is what can happen when you don't take care of your body and, especially, neglect stretching. It has been hard to sit, drive and even sleep because of the unrelenting throbbing pain. My massage guy explained that because I have been using the same muscles so repetitively for so many years they actually started to grow together. Particularly the hamstring muscles. As I lost weight my feet had to reach further to get to the pedals. Over the summer I've been moving the boom in to compensate but, obviously, I waited too long this last time and the stretch to the pedals became too much for my already extremely tight muscles. Oh my Oh my! Slowly, very slowly, I have been recovering but still have a ways to go.
I am now heading to Los Angeles where I will spend the year-end holidays with my family. I will also continue working to heal my body with stretching, yoga, massage and acupuncture. Once I feel strong enough I will begin the process of buying a new trike. There are so many more trike options now than there were 6 years ago. Since I really want to continue touring out of the country, this trike will not have electric assist. I'm very interested in trying out suspension and a hard shell seat. Maybe a Rohloff hub too? The trikes that have caught my eye, so far, are ICE and HP Velotechnik. Bent Up Cycles in N. Hollywood has a varied selection and I am looking forward to test riding many, many trikes.
Once I settle on a new trike, and get my body back in touring shape, I'll turn my attention to plotting a new cycling adventure. Start in the north of Thailand riding into China? Europe? We'll see.... Stay tuned!
Leaving Portland and Big Changes for the Future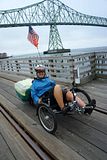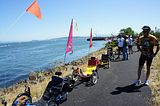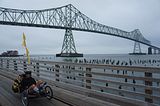 Trikes posing for the photo shoot at the recumbent retreat.
Trike ride along the Columbia at the Retreat.
Dawn riding under the Astoria Bridge.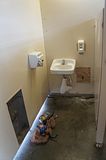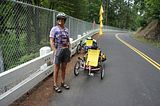 With my new friend, Officer Larson.
Batteries..eerr..bombs in the bathroom at Rainier Veterans Park.
Dawn with her trike resting after the climb up to Beaver Falls.