<LINK REL="SHORTCUT ICON" HREF="http://www.sylviahalpern.com/public_html/favicon.ico">
The tremendous rains of the last few days had cleared out but the morning was so cold I couldn't leave. I drank a few more cups of coffee and checked the house one more time for anything left behind. It was still only 41 degrees at 10 am when I took off leaving my sister's place in Lexington. The guys at Pedal Power had printed me a route to Berea. My GPS seemed to follow the same route and I put the paper cue sheet away. The road quieted once I turned on to Old Richmond road with lots of luxurious horse farms. This was quintessential Kentucky with the horses, dark brown double fencing and bright green grass. Some of the properties had historic unmortared stone walls lining the road. It was still cold and I kept the groves on. I continued following the GPS on roads with big rollers. A very friendly young dog came running after me. The dog ran after me for miles. A couple of cars slowed to ask if the dog was mine. I begged them to take the dog. I came to the end of a road and turned on a bigger street thinking the dog would turn around but here came the dog. It would run on the right and then the left. I turned up the motor and was going over 15 mph hoping to deter the dog. I think the dog ran after me for 5 miles before it stopped. Boy was I relieved to lose the dog.
The rollers continued and then I rode down to a big river. I stopped at the River Inn for lunch and charged up the batteries. From the river there was a huge climb that went on for a good 6 miles up to I-75. I might have missed a GPS turnoff because I had to ride on the I-75 frontage road for a couple of miles and then turned up a big hill. Then the GPS turned me down a dead end road. Uh- oh! I was in a brand new development that wasn't on my map. I stopped a woman and she pointed me up and around the hill. I was still another 3 miles out of Richmond. I followed the woman's instructions and after 3 miles I was still up on the hill. I stopped another woman who informed me that this road was a 10 mile route into Richmond. Oh My! I turned around and stopped a couple of guys working in the yard. They gave me a reasonable route and I finally had a great downhill into Richmond. By this time I really needed a bathroom and I pulled into a high school. Every door was locked with a sign telling me to go to the main entrance. I just needed a bathroom and rode off feeling really grumpy. On the next block and I found a vocational school with an obvious front door that I went running through to find relief. Maybe I should have followed the route the Pedal Power guys printed out for me.
The temperature barely got into the 50's as I rode through Richmond onto Berea Rd. Within a couple of miles the shoulder disappeared just as rush hour started up. I rode for 10 miles on a road where there wasn't any room to ride on. Surprisingly, only 2 people yelled at me. This was a really stressful ride. I would pull over and wait for a break in the long line of passing cars. For a while I wasn't sure I would be able to do it. Little by little I made my way into Berea and found an America's Best Value Inn. Boy was I happy to stop for the day. This place was a real find. $36 per night for a comfortable clean room. Niiccee! For the last 3 weeks I have been sleeping on couches or air beds. I was really exhausted and was looking forward to a good night's rest. For $36 I might just stay another night.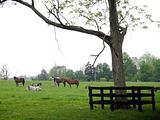 Lots of horse farms today. The building in the background isn't a house it's a horse barn.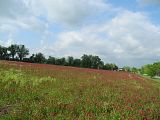 Berea College historic plaque.