<LINK REL="SHORTCUT ICON" HREF="http://www.sylviahalpern.com/public_html/favicon.ico">
I was hoping to watch some of the men's semi-final matches from the French Open in the morning. Earlier in the week matches started at 7 am but not today. By the time I realized they wouldn't start until 11 it was already after 9. When I got started riding the temperature was in the 80's and expected to soar. There was also a fierce headwind when I turned south onto Hwy 37. I rolled through town and then along farmland. There was a nice shoulder and surface was smooth. Ten miles later I had a lengthy stop at a Cenex station because so many people had questions. I continued on another 10 miles to Seligman where I pulled into a public park to make some lunch. The toothless groundskeeper kept me company with annoying questions about how much my trike cost. It was getting really hot too. The park was part of a building that housed the library, city hall and police station. I went in to use the bathroom and had a nice chat with the chief of police and the staff.
It wasn't much farther and I stopped to get a picture at the border of Arkansas. A new state- woohoo! There were more picturesque farms with large circular bales of harvested grass and hay. Oh my it was getting hot. I turned on to Hwy 62 and the traffic was awful. I was not enjoying this but the GPS quickly routed me on to Ganns Ridge which was a very nice road. Shallow ups and downs through interesting scenery with the cicadas singing loudly. Many of the homes were trailers but they all had horses and other livestock.
After another 10 miles I was ready for a break and found a McDonalds in Pea Ridge. This town has a national military park with the most intact civil war battlefield. I got something to drink and sat in the air conditioning to cool off. Wow o wow it was hot. The temperature was at 97 and with the humidity it felt significantly hotter.
Leaving Pea Ridge there was a nice down hill and, of course, a big uphill. I thought I was going to melt into the asphalt climbing that hill I was so hot. I had to pull over occasionally to let traffic pass. One place I pulled into was a cowboy church. The sign out front advertised goat tying lessons. I continued on to Bentonville - the home of Walmart.
I recently heard from my friend Walt in Austin. He had contacted some old friends in Fayetteville who invited me to stay. These friends wrote me to say that Walmart was having their annual shareholder meeting this week. The place is hopping with thousands of associates from all over the world. It was too hot to make it another 25 miles to Fayetteville and so I took my chances that a hotel room would be available. I used the GPS to find a budget motel. My first try was a winner and I checked into the Econo Lodge for $44. It was such a relief to get out of the heat.
Now to find out how my man Roger Federer did in his semi-final match.
Cassville, MO to Bentonville, AR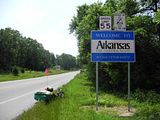 View from the 'Trail of Tears'.
Cowboy church in Pea Ridge, AR
Turning on the 'Trail of Tears' in Arkansas.