<LINK REL="SHORTCUT ICON" HREF="http://www.sylviahalpern.com/public_html/favicon.ico">
Wow it was hot and humid first thing this morning. I knew my ride today would be under 40 miles and I took my time. The temperature was already in the 70's when I got going at 9:30. Although hilly, the terrain wasn't as steep as a couple of days ago. I stayed on the Blue Moon of Kentucky Highway all day. Because of nearby flooded roads, traffic was a bit higher than usual but I had no problems. Most of the landscape was small farms today. Many of the farms were in full bloom covered in thick, yellow mustard grasses. The cows and horses looked so happy in the beautiful colors. I had a good headwind today which I was grateful for as it kept me cooler. There were only a few towns and they were all very small. After Millwood, Caneyville was the only town of substance. I had only gone 14 miles but I started to feel bonky. Maybe it was the heat but I rode into a church parking lot to eat some bread and fruit. Even after eating it took a good 40 minutes before I felt back to normal. After Caneyville I pulled into a farmer's driveway to get pictures of the colorful hillsides. We had a nice chat. He was very concerned about the rain coming this weekend adding to his already over saturated land. I continued on taking my next break in Horse Branch. There was a very nice park that had a covered area with tables and electricity. The clouds were gathering and the wind picked up as I started out again. Within a half hour light rains were falling. It didn't last long and the temperature and humidity returned. After Horse Branch I came into Rosine which is the origins of Bluegrass music. Not far up the road was Jerusalem Ridge and the home of the Monroe family. Bill Monroe is considered the father of Bluegrass. His most famous hit was The Blue Moon of Kentucky. Lots of history here.
As I rode it felt like the hills have become more shallow and I expect this trend to continue as I make my way to the Mississippi River. There was only a few more miles to Beaver Dam. I made my way to the Budget Inn which has been renamed the Eagle Inn. $50 and I was checked in. This is another simple, clean and comfortable motel. One of the first things I did was check the weather which appears to be uncertain for tomorrow. As I write this there is a 70% chance of thunderstorms. If it is raining in the morning I will probably take the day off. I've already made calls to make sure roads are clear. I received detour directions to get through flooded Calhoun. My next destination is Sebree and I'll be back on the ACA route.
Leitchfield to Beaver Dam, KY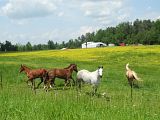 These 4 beauties came over to say 'hi'.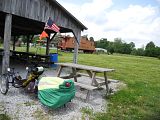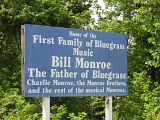 Cows amongst the flowers.
This area is considered the home and origins of Bluegrass music.