<LINK REL="SHORTCUT ICON" HREF="http://www.sylviahalpern.com/public_html/favicon.ico">
I took a day to check out Shakertown which is only 9 miles from Harrodsburg. There were huge, luxurious horse farms the whole way. It was a nice ride out there and I got pulled over by a local man to talk about trikes. He and his wife live close by and he invited me to stay. Unfortunately, I already had a hotel room. The skies threatened rain but it remained dry. Even though I've ridden over 100 miles since leaving my sisters I'm still only 30 miles from Lexington. I made my way to a highly maintained Shakertown that is completely surrounded by an impressive unmortared wall. The grounds are immaculately manicured with perfect looking ducks and swans on the lake. I wish I could show pictures but I left the sd card in my computer. Oooppss!
The Shakers were a sect of the Quakers that saw themselves as the avant garde of the kingdom of God They were known for enthusiastic worship that included "singing and dancing, shaking and shouting, speaking with new tongues and prophesying". They believed that in the kingdom, as in the Shaker fellowship, there was 'neither marrying nor giving in marriage'. Celibacy was considered a preparation for the kingdom. Not surprisingly, they didn't survive. There were lots of people walking around in 1800's Shaker garb. It was a very interesting tour but with the impending rain I headed back to Harrodsburg.
In the morning, the skies were clear but the ground was really wet. Apparently I had just missed a big downpour. I got packed and on the road by 8:30. There was lots of stiff ups and downs today. Some of the grades got up to 17%. There were lovely horse farms along gorgeous twisting, curving roads. I found a turtle crossing the road and stopped to save the poor little thing placing it in the grass on the other side.
At the 25 mile point I stopped at the Lincoln Homestead golf course to charge up and make lunch. After I went down to see the historic cabin where Nancy Hanks and Thomas Lincoln were married. I love these history stops right on the route. I also met a mother and son team, Cathie and Vincent from Maryland, stopped to check out the log cabins. They are being sagged and traveling light. Interestingly, most of the cyclists I'm meeting are being sagged.We chatted for a bit and determined we were both headed for Bardstown. I'm sure I'll see them again.
I continued on with the steep rollers and the humidity started to rise with the temperature. It eventually got up to 83 degrees. I had a couple of scenic surprises. First was a vineyard - in Kentucky? Then there was a farm of freshly shorn llamas. Brown, black, tan and white llamas. They each had a necklace with their name inscribed. Sammy came to the fence to say hello.
The traffic picked up coming into Bardstown as I made my way to the Old Bardstown Inn. This town has a number of bourbon distilleries in the area and a whiskey museum. The town bells chime with Campdown Races by Stephen Foster, one of it's beloved sons. I checked in for $45 and got settled. Then I took a ride out to My Old Kentucky Home State park to see if there were any cyclists. I met up with Cathie and Vincent but the recumbent guys hadn't shown yet.
There's so much history in Bardstown to explore I might stay another day. We'll see. I wonder if the Maker's Mark distillery has a tasting room?
Harrodsburg to Bardstown, KY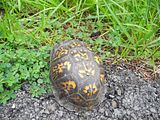 Early luscious landscape.