<LINK REL="SHORTCUT ICON" HREF="http://www.sylviahalpern.com/public_html/favicon.ico">
It was very cold this morning. I waited until the thermometer rose to 39 degrees before heading out. I took my cup of coffee to the house and had more stimulating conversation. This was a a very comfortable stay and I slept great out in the motor home. It was close to 8:30 when I pushed on down the road heading back to I-10. The shoulder was in better shape today than yesterday with less litter. The road rose 1,500 feet in the first 16 miles. The landscape was fascinating. There were huge boulders on the side of the road. It was just a short section of boulders. The boulders looked as if they had been dropped in place. It was hard to imagine how all these boulders got here. It was cool looking. I stopped at a rest area that was in the middle of the boulders almost at the top of the climb. I saw there were vending machines and wondered if I could find an open outlet. Sure enough, I found one in the women's rest room and took in one of my batteries to charge while I had made some lunch. Lots of truckers were also stopped and I had many conversations. These truckers gave me a very detailed description of the road ahead including other rest areas that have electricity. This was all very reassuring.
An hour later I continued on up the hill cresting close to 5,000 feet and then a big downhill in Willcox. There was a huge headwind developing and I was happy to stop for the day. I found a Motel 6 and got checked in for $36 which also made me happy. The wifi was very strong and I took advantage of stopping early to get the journal updated. I also did laundry and walked over the Safeway to pick up supplies for tomorrow.
Tomorrow's ride is a big one. 75 miles will be the longest I have ever ridden in a day. The truckers told me it is mostly flat which was a relief to hear. The weather is also expected to be warmer. My destination for tomorrow is Lordsburg, New Mexico. A new state.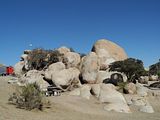 Invitation to ride on I-10.
Rest area amongst the boulders.