<LINK REL="SHORTCUT ICON" HREF="http://www.sylviahalpern.com/public_html/favicon.ico">
The owner of the Burro Jim hotel had given me a room some hunters had occupied for a couple of nights. He said he usually hears from them by 3 pm and since they hadn't called I got the room. This all happened so fast I wasn't really sure that the bedding had been changed or the room been cleaned although, perhaps, it had been done earlier in the day. Most of the time I'm cursing the weight and space all my camping equipment takes up in my bags. Today, I was grateful to have my sleeping bag and put it on top of the bedspread to sleep in. With all the motel weirdness I had a fitful night's sleep. Myrtle was locked up right outside and I kept looking out the window to check on her. Between the strange motel owner and so many people warning me about criminal Mexicans, my imagination just couldn't be quieted. In the morning I felt surprisingly well. I knew Wickenburg was only another 25 miles and decided to make that my next destination.
In the morning, I gave the key back to the owner. He talked about all the bikers that come through year around. He seemed to think most were European and will ride even during the hottest times of year. It can be 130 degrees and bikers will stop at Burro Jim's. He also said a young couple had stopped to rest yesterday. That makes 3 tourers I know of riding a day ahead. With a short mile day ahead I took my time and think it was almost 9:30 when I got going. The route went up and down one hill. The first 10 miles went up a few hundred feet and the last 14 pretty much went down. The day was beautiful and because I started so late it was already toasty warm. There wasn't much of anything on this route to describe. The desert landscape was quiet and parched surrounded by mountains in the background. I pulled over a couple of times to let my feet relax but waited until Wickenburg to eat. One of the ladies at the Aquila cafe recommended the Westerner Motel as a good and inexpensive place to stay. I found it easily and got checked in for $50. The motel is older but my room was clean with strong wifi, frig and microwave. An Indian man and his wife own the place. They were very nice and talked about selling the motel in the next 6 months so they could move back to India. I walked about a mile into town for groceries and explored a bit. Wickenburg town is really cute on a railroad line. It is also known as the dude ranch capital of the world. On my way back to the hotel I flagged down my first touring cyclist of the trip. John is from Minnesota and riding around the US until the weather warms up back home. He is mostly camping and had the biggest sleeping bag I've ever seen on top of his kitty litter panniers. John was very agreeable and I enjoyed talking to him. He will be taking the Grand Canyon ACA connector out of Tempe so I doubt I'll see him again. It was getting late and he was looking for the Horsepitality RV Park to set up camp for the night.
I spent the rest of night relaxing, internetting and watching tv.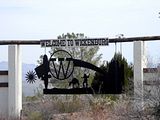 Historic marker describing an ambush and massacre