<LINK REL="SHORTCUT ICON" HREF="http://www.sylviahalpern.com/public_html/favicon.ico">
Oberlin is a poor town. The Oberlin Hotel was a clear reflection of this. Why would anyone build a motel right next to a railroad track? Luckily the trains stopped at 11 pm. Unfortunately, they started up again at 5:30 am. The train horn blew the whole way through town. Wow - that was some wake-up call. I spent the morning using the wifi. While I was loading up Myrtle I noticed a lot of dead cockroaches outside my room. I was grateful the roaches weren't in the room and even happier to pedal away.
I continued on Hwy 26 under warm, cloudy and very windy conditions. The road had a wide shoulder but some genius had put a rumble strip right through the middle of it. The shoulder was useless. Luckily there wasn't much traffic. The turn off for Hwy 104 wasn't far and I was on a quieter road. The pasture land was in bloom with yellow mustard grass. The cows looked so happy grazing in the flowers. It made for a very picturesque ride. The road really wasn't in very good shape and the riding was rough going until I crossed into Evangeline Parish. That was a big improvement all the way into Mamou. The scenery changed to bright green rice paddiess interspersed with crawfish ponds. The wind had really picked up from the south with gusts at 30 mph. The roads in Mamou were really awful. There was a seafood market selling alligator legs and fillets. Yummy! No, I didn't have any. I pulled into the hospital to use the bathroom and I talked to a woman outside about my trip. She was going to add me to her churches prayer list. It certainly couldn't hurt. She gave me her address and asked me to send a postcard when I get home so she'll know I made it ok. I'll probably send one before then.
Riding out of the hospital I looked down at the Cycle Analyst to see I had run through 9.5 of the 10 amps available. This is not recommended. Actually, I'm not supposed to use more than 8 amps. I switched batteries and hoped I hadn't done any permanent damage. The road continued to be awful. Again, there was a rumble strip in the middle of the shoulder. There were cracks on top of cracks with grass growing in the cracks. The ACA route continued on this road. I saw Hwy 1161 also went to Ville Platte and took it. This road is brand new and I had the wind behind me. Excellent choice. The landscape continued through beautiful green rice fields. I saw hundreds of egrets and ducks fly out of a drained crawfish pond. That was really cool.
Ville Platte has 2 hotels one on each end of town. I headed for the cheap one. The Ville Platte Inn was scary. The manager was sitting behind a glass wall that was covered with a metal grate. She didn't look like she felt safe. Actually, she looked like she expected to be robbed and shot at. I continued on to the Best Western. This hotel is really out of my budget. I told the front desk woman about my trip and she gave me a deluxe suite for $65 a night. Very nice and, wow, this is a nice room. It was essentially a one bedroom apartment with a full kitchen and living room. I booked in for 2 nights. Woohoo!
Oberlin to Ville Platte, LA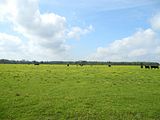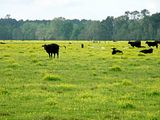 Who was the genius that put a rumble strip in the middle of the shoulder?
Cows in a flowering pasture.
Sign in the window of a seafood market
Birds in a drained crawfish pond.