<LINK REL="SHORTCUT ICON" HREF="http://www.sylviahalpern.com/public_html/favicon.ico">
I thought Marana was much farther from Tucson and was very surprised to find out I only had 17 miles to ride. There is a Weight Watchers meeting at 4:30 I was planning on attending but with so few miles to ride I looked to see if there was an earlier one. Lucky me, I found another at the same address at 12:30. Interestingly, Googlemaps routed me 29 miles into Tucson but the GPS plotted a much shorter 17 mile route to the meeting. The 17 miles were uneventful and the Weight Watchers office manager let me roll Myrtle inside for safety. My weight loss was a measly 0.2 lbs. Really? I'm practically vegan sticking with my 29 weight watcher points as I ride my 150 lb trike at least 150 miles a week. I was disappointed but an looking to next week for more success. After, I went to Sunflowers market for some fruit and wild rice salad. I'm still sticking with the plan.
I had a few hours to kill before meeting with my warm showers hosts. I found a Starbucks and used the internet to finish up a blog posting. While I was there I met lots of people. At 5, I gave Susan and Gene to say I was on my way. I was looking forward to meeting this couple and having a home stay experience. Riding from hotel to hotel was starting to feel lonely. They made room in the garage, along side another 10 bikes, for Myrtle and then showed me to my room. I had 2 beds to choose from. Gene is hugely into cycling. He has every kind of bike imaginable and a cat trike too. They had a nice meal waiting and we continued yakking for hours.
The next day, after a terrific night's sleep, I rode out to Ajo bikes. This is a local bike shop that deals with recumbents. Ajo bikes has an amazing assortment of bikes. I'm not sure I've ever seen such a well stocked shop. They had little kid bikes, all types of recumbent bikes, treks to tandems, chopper bikes as well as electric bikes and trikes. Very impressive. I came here because I've been very worried about thorn flats. Mostly what I'm worried about is a rear wheel thorn flat. With the motor, the back end is so heavy I'm hoping to keep flats to a minimum. Everyone at the shop was enthusiastic about my ride. I was introduced to the mechanic Tyler who talked me through various options. He ended up putting extra thick tubes with goo and Mr. Tuffy liners on all three tires. I also switched out the rear tire for a Marathon Plus. Ok, now I'm ready for goat head country.
On Wednesday I was riding around checking out the University of Arizona campus when I slowed to check where I was on the GPS. I was probably riding 2 mph when I rode over a big piece of glass that took a chunk of rubber out of the right front tire. Luckily it didn't get to the tube but the tire was toast. The timing for this mishap was odd. Just an hour earlier I had boxed up a few things to send home including the tire that had been on the rear wheel. I called the mail place and they said it is illegal to open a package that is sealed with postage. I explained about the tire and that it will cost me $50 to replace the tire that is in that box. Finally, the woman took pity on me and let me come by to pick up the spare tire. Then I went to a Performance Bike shop and had them verify that the tire really needed to be replaced. They switched out the tires for $10. Now I was ready for the road again.
Susan and Gene went off to work everyday and let me have full run of the house. They invited me to stay as long as I wanted. I had a terrific visit with this very generous couple. This experience has given me confidence use the list again especially if I use hosts that are couples. My next destination beyond Tucson is Benson off of I-10. I checked the list and there is a couple living in Benson that have a motorhome for passing cyclists. They were available and accepted my request to stay.
Well, it looks like I'll be off again on Thursday. The weather also looks like it is going to be fantastic for another week. Alright Myrtle - let's go.
Susan and Gene's front yard art.
Sorry cactus after deep freeze temperatures.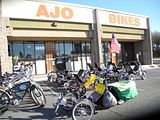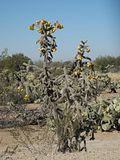 Tyler, a terrific bike mechanic at Ajo.