<LINK REL="SHORTCUT ICON" HREF="http://www.sylviahalpern.com/public_html/favicon.ico">
I slept well at the Westerner and got going close to 9 am. The motel owner and his wife invited me to India as I left. Very sweet. I wanted to get to Surprise today to attend a Weight Watchers meeting. I continued on Hwy 60 for a 35 mile ride that was a gentle downhill almost the whole way. Boy was that fun. Except for 10 miles the road was in fabulous condition and I made it to Surprise by 12:00. I hardly used the motor for today's ride either. When I saw Trader Joe's my heart rose and I pulled in for some supplies. Over the last few days, I've made do but the food hasn't been the best. I was excited to get some Trader Joe's hummus. I also found the Weight Watchers office but it was closed until tonight's meeting. After consulting the GPS, I discovered the Day's Inn would be the closest hotel. I generally like to stay in smaller 'mom and pop' style motels which are family owned and cheaper but the area is so new there aren't any. Within 6 miles of the meeting I could only find hotels that service Sun City West. This is a huge 55+ retirement community. I checked the Day's Inn website, found a special and got checked in for $75. Tomorrow is expected to be very windy and I decided to stay for 2 nights.
After I got settled I made my way back to the Weight Watchers meeting. Checking in got unexpectedly complicated. I'm on a monthly pass membership that allows me to go to meetings and use the online tools for tracking. My membership number is written on the weight record keeper that I take to all the meetings. So far, no one has asked to see the actual monthly pass card. Until now. The meeting leader wanted me to pay $13 because I couldn't produce the card. I argued and she kept saying 'That's the way we do things in Arizona' as if I was trying to rip them off. I explained about my trip pointing to Myrtle parked outside the window. Then I showed her the stickers from the various meetings I've attended since leaving Los Angeles. This woman was stubborn and wouldn't budge. I was ready to pay when suddenly I thought to look through my credit cards. Lo and behold, I had my card. My goodness that was really stressful. After all this back and forth I finally got on the scale. I was rewarded with a 6.2 lb loss. Not only that, this loss put me below 200 lbs. Nice. Lots of people at the meeting were interested in my trip and I handed out cards with my website information. After the meeting more people came outside where Myrtle was waiting to talk some more.
Earlier in the day I had received an email from the Weight Watchers group in Rancho Cucamonga that I met. They are so excited about my ride a map has been put up on the meeting wall to track my progress. Really fun! That kind of support is simply fantastic.
Since this meeting got out at 6:30, I had to go back to the hotel in the dark. I really don't like riding at night but it was uneventful. I spent the rest of the evening calling all my friends to tell them about my success. This was really exciting. Maybe I'm finally on to a weight loss plan that will work for me.
I guess this town really did hold a surprise for me.
In the evening I started looking at the map to see what the next big stretch to Las Cruses New Mexico had in store. I noticed that the ACA route goes up into the mountains. The route climbs to about 8,000 ft and I bet it is very beautiful. It seems that the entire country is in a deep freeze which starts at the mountains just east of Phoenix. The temperatures have dropped to below freezing in the mountains which is much too cold for this turtle. I need to find an alternate route. After some more research, I discovered that bikes are allowed on the interstate between large cities in Arizona. I could take I-10 all the way. Freeway riding isn't very interesting but at least I could get to Las Cruses. The forums on Adventuring Cycling have lots of postings about people taking the Interstate. Many people even prefer it because the Interstate is in much better condition than the frontage roads.
When I started out from Los Angeles I knew the timing was probably a month earlier than recommended. I may have to make more adjustments as I go. Well, I definitely have my route to Tucson mapped out.
Tomorrow, I'll go to Phoenix for a couple days of sight-seeing.
Wickenburg to Surprise, AZ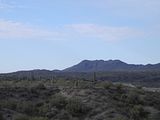 Hwy 60 with the edge of the massive 'arctic' storm in the distance.