<LINK REL="SHORTCUT ICON" HREF="http://www.sylviahalpern.com/public_html/favicon.ico">
Many of the railroad guys had come by to say hello and find out why someone was camping behind their hotel. I thoroughly enjoyed talking to them and found out they put in 12 hour shifts and are required to rest at the hotel for 10 hours before starting another shift. Many of the guys work 5 am to 5 pm. Maybe that's how long it takes to drive a train from New Orleans, Shreveport or Houston. I didn't ask.
The wifi was strong and I took care of a lot of stuff.sitting at a picnic table but once it got dark I had to do something else because the mosquitos were swarming. It was too early to go to bed so I went to the diner and talked to people over there.
In the morning the tent was dry. I got on the road before 9 am. Today's route was lovely. Mostly it was along the False River on the Mississippi River Trail. There were many plantation estates with sweeping lawns and giant azalea bushes in full bloom. I stopped in New Roads for coffee and then made my way to the ferry. Today I crossed the Mississippi River. Boy does this feel like a milestone. I took a ferry with a few trike motorcycles. They all had a good laugh when I told them I had a motor on my trike.
The ferry crossing wasn't more than 10 minutes and we debarked in St. Francisville. This is a historic tourist town. I cycled around some of the old homes. Each had a plaque out front giving some history. Most of the homes were from the 1870's.
I needed to check general delivery to see if I had a package waiting. I have had a few problem mirrors on this trip and I wrote to Mirracle to explain what had happened. Barry, the president, wrote me back to say the problem was that I was using the mirror on a recumbent bike. I kinda doubt it but he offered to send me a couple of new bases if I gave him an address. I pedaled on over to the Post Office but the package hadn't arrived. I asked them to forward it on to Jackson, TN where I should be in another week.
Then I made my way to the Peaceful Pines RV Park. It's about 7 miles out of town. I think the name sounds like it belongs to a cemetery. My friend Dave the Slug from Portland was going to meet me there. Dave started riding west from Tampa a month ago. He has a blog on CGOAB titled Captain America Tour's. The interesting thing is St. Francisville is the only town that we are both stopping at so I felt really lucky this worked out. We walked to the Oakley Plantation which is where John Audubon did his Birds in a America series of paintings. The Plantation was only a few hundred feet from the RV Park.
From here I'm going north to Natchez to do the Natchez Trace Parkway up to Nashville and Dave is going to do the ACA Great Rivers Route to St. Louis. We are going to look at the routes. It's possible they both go to Natchez. If so, I'll have someone to ride with tomorrow.
Livonia to St. Francisville, LA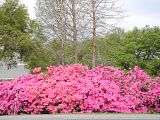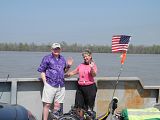 On the Mississippi River ferry.
Dave outside the Oakley Plantation.