<LINK REL="SHORTCUT ICON" HREF="http://www.sylviahalpern.com/public_html/favicon.ico">
For some inexplicable reason I awoke early and was up at 6 am. Getting up before the sun is a rarity and, as far as I'm concerned, unnecessary. This meant I was on the road before 8 am - crazy! The winds were at my side in the 15-20 mph range. Much better than yesterday. 15-20 mph winds seem to be the norm in this area. The sun was warm and the road was in excellent condition with a wide shoulder as I headed east on Highway 190. It started out very flat. I saw my first armadillo but it was road kill. There was very little traffic and sometimes 10 minutes passed between cars. There were lots of historical markers describing combat between cowboys and indians in the late 1800's.
This is cattle country and most of the trucks passing me were taking cows to auction. The first town I came to was Rochelle. It appeared to be very poor with residents barely scraping by. The only paved road was the highway. This was the start of the Texas hill country. Occasionally, the hills got up to 10% but mostly it was a very gentle 2-4%. I kept an eye on the Cycle Analyst and it behaved throughout the ride today. No funny numbers or regenerating watts.
Just like yesterday, I lost elevation. Lots of ups but more down. - nice! I stopped at the Yellow Duck Cafe in Richland for lunch. I asked if I could charge up a battery while I rested ordering a cup of coffee. No problem. Even though I had lunch with me I figured the least I could do is order some food if they can help me out. I ordered a burrito and I shared my table with people ordering to go. This was a very small, blink and you'll miss it, town. I had some nice chats while eating. On my way out the door, after paying for my meal and leaving a 30% tip, the owner yells at me from the kitchen that I owe her $1 for charging up. Like I was stealing from her. Wow! That was a first and completely out of the blue.
In the last 15 miles I saw goat, lamb and cattle farms. The sheep were all freshly shorn. I also went passed a huge cattle auction. There was a very nice downhill into San Saba; the pecan capital of the world. I still don't have a Verizon signal. I had made a booking at the Executive Inn and checked in for $48. The name is a little misleading. The rooms are clean and comfortable but it is a fairly old and run down motel. The owners are very friendly with 2 young kids. The wife came over in the late afternoon with a bowl of spicy lentil soup and corn bread. It was delicious and fit into my diet perfectly. This motel gets a big thumbs up.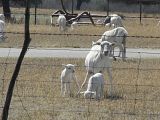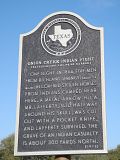 Historic marker describing a cowboy surviving an Indian attack in 1866.
Leaving Rochelle entering the hill country.