<LINK REL="SHORTCUT ICON" HREF="http://www.sylviahalpern.com/public_html/favicon.ico">
With a 70 mile day ahead of me I should have got an earlier start but still managed to be on the road by 8:30. The winds were calm and the sun was directly in my eyes for the first hour. The temperature was much warmer today. I have been riding on a plateau at the 3,000 ft level for the last few days. Today I got to come down about 1,000 ft. The landscape early on was parched and smelly but as I dropped down I started seeing welcome hints of green.
My first stop was a cafe/gas station in Barnhart for some coffee and a battery top off after 18 miles. I spoke to the town sheriff for quite awhile. He kept shaking is head in disbelief whenever he looked at Myrtle. I drank my coffee and listened to a conversation between two clerks about how they can't read. One young girl wants to go to college but wasn't sure she could keep up with the reading.
The next 25 miles went through cattle country. I really felt sorry for these poor cows nosing through the tasteless looking rocky and brown earth. Eventually I made my way to Mertzon where I was hoping to find a cafe to have lunch and charge up the batteries. Unfortunately a funeral had closed most of the businesses and I ended up at another gas station. The cashier was originally from Washington and we struck up a long conversation. I ordered a grilled chicken sandwich which was better than I thought it would be. An hour later I was back on the road.
The shoulder of the road was wider than the lane and had been really smooth. From Mertzon the road surface became very rough for 20 miles into San Angelo. The landscape became greener and started to look more lush. There is lots of water around San Angelo. I also passed many entertaining goat and lamb farms. Just before entering town the shoulder became smooth again. It was such a relief. I pulled into Walmart on my way to the hotel to get some supplies for the next couple of days. The winds are expected to be extreme tomorrow and I didn't want to have to go anywhere. I'm so exhausted that a couple of days of doing nothing sounds perfect.
I got really lucky that I made a reservation a few days ago. There is a rodeo in town and all the hotels are booked. I checked into the Days Inn for $50 and found a place to park Myrtle right outside the room. It felt good to arrived and know I could relax for a few days.
Big Lake to San Angelo, TX
The landscape gets a welcome hint of green.
Start of the day on Highway 67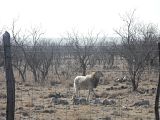 Goats huddle when they get scared.