<LINK REL="SHORTCUT ICON" HREF="http://www.sylviahalpern.com/public_html/favicon.ico">
I had a really nice ride with Joni and was kind of sad saying goodbye to another friend. Now I was on my own. The hotel was rundown and a bit depressing as well. The room was clean but everything was old and uncomfortable. I think there were only 2 other rooms occupied. Luckily, I have my Mifi wireless because that was the only way to get online. Double lucky that I had food with me because there were no stores or restaurants around.
In the morning I was packing up when a recumbent bike friend called. Steve had gotten a call from someone following the blog that I was in the area. Steve lives on the other side on the Salton Sea with his wife and invited me over. His timing was perfect. Steve's side of the lake seems more interesting but there wasn't any place to stay when I set my route. Now I could see the real Salton Sea community I had heard and read so much about. Steve lives in an RV park located between Bombay Beach and Niland. Niland is especially famous for Slab City. I read about this place in the book 'Into the Wild'. My impression is it resembles a refuge camp and I was reluctant to go on my own. The other community is Bombay Beach which at least has running water and sanitation services. Both places cater to very low income RV people.
Steve gave me directions and I headed back over the top of the lake through Mecca. I made a stop at North Shore hoping to use the bathroom at a liquor store. The wiry old woman managing the place had a gun on a holster and showed me to the back. She explained some meth dealers were causing problems a year ago but now that she has a gun they don't bother her. I think this was the first time I've seen a civilian carrying a gun in public.
The ride was nice and flat. The weather was perfect with light cloud cover. I passed by palm date orchards and fields of green crops but mostly it was a lot of desolate landscape. The Sea was always in view and I rode below sea level for the whole day. The lowest point was -217 feet. After Bombay Beach I rode through the immigration checkpoint and turned on Frink Rd to get to Steve's. He and his wife have a trailer and they let me stay in his mammoth motor home. After parking Myrtle they wisked me away for taco Tuesday at the Bombay Beach Veteran's lodge. We had a couple of tacos and then they took me on a tour of the 'town'.
This whole area was really booming 30 years ago. 26 years ago a hurricane came in from Mexico and stalled out over the Salton Sea. It rained for over 20 days and the Sea grew a 1/2 mile all the way around. Most of the properties were on the water and they disappeared. There were whole towns, marinas, restaurants and even an airport that got swallowed up by the water. There wasn't anything anyone could do to save the towns and the area died. Many of the homes and businesses are still under water. The hotel I stayed at is the only one that survived because it was a mile back from the water. Over the years the Salton Sea has receded and there are lots of deserted decaying mobile homes next to the water.
I met some people that lived in Slab City for awhile. It is full of no-income and very low-income RV people. There are no services for water and sanitation. All supplies have to be brought in. They said the place is filthy but it has a lively, colorful community. One of the most famous characters is a preacher who literally landed there after his hot air balloon failed. He never left and built Salvation Mountain which gets a lot of press for its weirdness.
Steve, Irma and their friends have all shown me a wonderful time. They are really nice people. I told them of my plans to ride to Brawley and pick up the Southern Tier bike route. The stretch from Brawley to Blythe is almost 100 miles without services and much too long for me. I didn't know how I was going to do it. Steve said they were going to Mexico on Thursday for the day and could drop me halfway. How great is that.
Well it looks like I'll be on the Southern Tier tomorrow, yoo-hoo!
Salton Sea - Desert Shores to Frink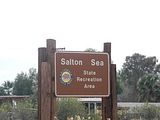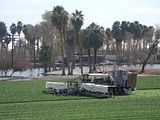 I was below sea level for the whole day
Bird life on the Salton Sea
Chocolate Mountains on the way to Frink
Decaying mobile home from flood 26 years ago