<LINK REL="SHORTCUT ICON" HREF="http://www.sylviahalpern.com/public_html/favicon.ico">
The ride out of Surprise was fairly routine except for the weather. It was colder than I expected and extremely windy. Luckily it was a 3/4 wind at my left shoulder. Almost a tailwind - yahoo!
First, I stopped at Walgreens to pick up a prescription and then I was on my way. Hwy 60 had a big 'ol shoulder to start out with and then I hit a construction zone for a few miles. It was tense riding through this section until I realized there was a stop light and traffic came through in spurts. I would pull over to wait for traffic to pass and then gun the motor. Traffic was actually surprisingly patient. The wind was very loud and I bet the temperature didn't get above 40 all day. The ride went through industrial areas passed Glendale and Peoria into Phoenix. The ride was so unactractive there wasn't even anything to take pictures of. I found an America's Best Value Inn on W. Van Buren and checked in for $110 for 2 nights. I was freezing cold and needed to get inside. There was a really good space outside the room to lock up Myrtle out of view from the street. I'm almost downtown and Pheonix doesn't look very attractive from here.
The next day it was still really cold but not as windy. I rode through Garfield and Loma Linda neighborhoods to Sprouts natural foods store for supplies and then I tried to find a bike shop. The dreaded goathead has me spooked. I wanted to get a locals opinion about whether the Marathon Supreme is truly goathead resistant. The bike shop was out of business and it was so cold I went back to the hotel. The high for today was 44 which is the coldest day for Phoenix in a century. Records are falling with the temperatures.
Something had been bugging me lately and I couldnt' figure out what it was. Then my friend Jeff wrote to say that he had stayed with a couple in Tucson that were very nice. He would look them up to see if I could stay as well. That was it. On all my previous tours I was constantly meeting people but not on this one. I'm riding from one motel to another with very little interaction. Hhhhmmmm. I've only used Warmshowers once before, in Australia, and I had a successful stay. Maybe it was time to try Warmshowers again. I went online and found the couple Jeff wrote me about sending them an email. The response was quick and enthusiastic. So, I have a place to stay in Tucson. Things are turning around.
After that success I contacted another Warmshowers host in Casa Grande which is 55 miles south of Pheonix. They were already booked with guests but atleast I tried. I've always been shy about asking for a place to stay because I'm traveling alone. I worry about getting myself into a situation I might regret. But then again, with that attitude I would never have even started touring. Warmshower hosts are mostly in bigger cities and it would really be nice to meet people to give me a lay of the land. Most of the time I have no idea what a city has to offer.
The temperature was below freezing again this morning and I decided to stay another day. In the afternoon I went to find another bike shop. I stopped at the Slippery Pig Bike Shop and talked to Aaron. I explained about my ride and fear of goatheads. He said the Marathon Supremes are an excellent tire choice for touring in Arizona. The goatheads haven't started flowering which will also minimize the threat. There might be some left from last year but the goathead season doesn't get into full swing until March and April. He was a really nice guy and said I should be fine without Slime or Mr. Tuffy liners. Aaron also thought Myrtle was pretty cool.
So, tomorrow I head out for Casa Grande. The temperatures are expected to get up to 60 degrees. That's more like it. The temps will also be above freezing for the first morning in many days. Pphheewww!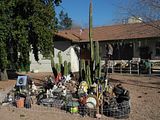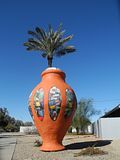 Huge pot on a canal bike path.
Aaron at the Slippery Pig Bike Shop.