<LINK REL="SHORTCUT ICON" HREF="http://www.sylviahalpern.com/public_html/favicon.ico">
Wow - what a week in Palm Springs. I had so much fun it was hard to have it end.
First, I stayed with dear friends Syd and Joan who I know from Oregon. Their place was really comfortable and Syd helped me fix the broken chain. What a Godsend! We took the old chain to Palm Springs Cyclery and bought a new one. At first we talked about replacing the twisted links but the mechanic said we would be better off getting a whole new chain. It took us a couple of hours to get the job done because Syd noticed a bracket that holds the chain tube in place also got badly bent when the chain snapped. After closer inspection, Syd simply bent it back. I couldn't have picked a better spot to have a mechanical failure. Joan and Syd are lovely friends and we always have a good time together.
Later that same afternoon my friend Julie arrived from Chicago. I met her at the hotel and we got checked in. It didn't take long to get the bathing suit on and jump in the pool. In the early evening my other friend Carolyn flew in from Santa Fe. The three of us lived in the same apartment building in Milwaukee, Wisconsin 20 years ago and have been best buds ever since. It was great to see these dear friends. Over the weekend Carolyn's 2 daughters, Laura and Elizabeth, drove in from Los Angeles. These girls are so much fun and I can't remember the last time I laughed so hard. Laura's rendition and dance moves for 'Whip My Hair' still make me laugh out loud.
We all had grand ideas for what to do on our vacation. We thought about taking the tram, shopping, hiking, or driving out to Joshua Tree. We ended up doing nothing but lounging by the pool for 5 days. What a fabulous time. This was the best vacation that I can remember. The 5 days went by too fast and before I knew it everyone had left. Then I called Joan and Syd and rode back over to their house. We had a lovely evening and after a good night's rest I got Myrtle packed up and started my tour again.
I have another friend in Palm Springs that rides a trike. Joni wanted to ride with me out of town and we met up on the road. It was another gorgeous, picture perfect day. Joni knows the area well and played tour guide. I had a terrific time riding with her and it was a blast having company. We rode through Desert Palms, Indian Wells and Indio on busy, very flat roads. There was lots of stop lights which slowed us down but it was such a nice day I didn't care. Once out of Indio the sprawl ended and the scenery turned to lots of date farms, orange groves and vineyards. There were also lots of dogs out that gave us a fright. Luckily, none of them wanted to chase us. Perhaps this is a benefit of riding slower. We continued on through Mecca to Desert Shores on Hwy 86. I figured Joni would escort me to the edge of town but we rode the whole way to the Salton Sea together. I got checked into a hotel while Joni had a friend come pick her up. That was a really good days ride.
This area isn't anything like I was expecting. When I was a kid the Salton Sea was a vacation destination. Not anymore - it's practically a ghost town out here. I felt lucky to find a hotel. The Sea and Sun Motel is run by an Indian family. I can't even imagine how a family goes from India to running a hotel at the Salton Sea. The hotel is really run down but the family is very nice. $50 and I got checked in.
Tomorrow I'll ride to the bottom of the Salton Sea and meet up with the ACA Southern Tier route. I feel like the tour has started for real now.
Palm Springs to Salton Sea
Carolyn with her lovely daughters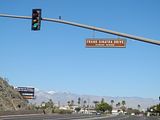 Joni leading the way out of Palm Desert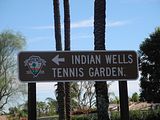 Passing the tennis garden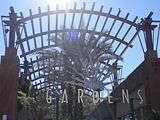 Date palms being harvested by ladder