<LINK REL="SHORTCUT ICON" HREF="http://www.sylviahalpern.com/public_html/favicon.ico">
The manager of the Pine Grove RV Park explained that the motels in town catered to contractors working for various companies in the area. He wasn't surprised they were full. I got a site for $10 that included electricity and wifi. There were touring bikes locked to the picnic table one site over. They belonged to a Dutch couple that returned from walking to the market. We talked about our tours for awhile. This couple is riding west having started in Florida in January. It was fun talking to them.
Once the sun went down the mosquitoes started buzzing and I fled to my tent for refuge. The temperature was warm and I don't think it ever got below 60 degrees all night. I didn't have any phone service but luckily was able to Skype using the park wifi. It made me laugh to be snug in my tent tucked into my sleeping bag using wifi to yak with my friends. I love technology.
In the morning the fog was thick and the tent was soggy wet. It was still warm and probably still above 60. Amazing. I took my time giving the sun a chance to burn off the fog and dry out the tent. The Dutch couple said goodbye and rolled out on the road by 9. Unfortunately, clouds kept the sun from doing it's job and I ended up taking off close to 10 am with a wet tent packed away in my bags.
I'm only 40 miles from Lake Charles which is pretty close to the gulf. The marine layer lasted until 11 and then it was a beautiful day although very windy. The wind was from the south blowing 25 mph hitting me at my side. I turned on Hwy 26 and saw a auto repair shop with an unusual looking tricycle sitting out front. It was a trike made from an upright bike with 26 inch wheels using a gas motor. It probably sounds like a leaf blower on wheels. No one was around to ask questions so I continued on. The road went by many horse farms. The grass was a rich green that reminded me of New Zealand. I pulled over often to take pictures. The horses were curious and would come to the fence to say 'hi'. At one point police cars with sirens blaring came by to clear the road for a huge over loaded truck. It drove passed taking up both lanes. I had to get completely off the road. Crazy!
There weren't any real towns today but I passed lots of Pentecostal churches with boards on the lawn telling everyone to pray - or else. The road improved once I crossed into Allen Parish. After 35 miles I made it to Oberlin which is a very small, poor town on a railroad line. I got checked into the Oberlin Inn for $39.95.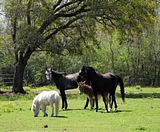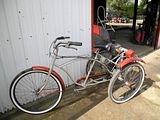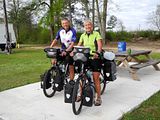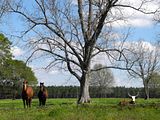 Gas motor on an upright tricycle.
Dutch couple cycling west.
Horses and longhorn saying 'hello'.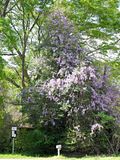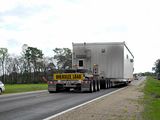 Now that is a lilac bush.