<LINK REL="SHORTCUT ICON" HREF="http://www.sylviahalpern.com/public_html/favicon.ico">
So much has happened over the last 2 months I hardly know where to begin. I've really enjoyed my stay in Los Angeles and visiting with my family. My aunt and I went to lots of movies, plays, readings and even opera. I also took care of many tasks. The most time consuming job was transferring my website using new software. After purchasing a new MacAir I discovered that the design software I was using didn't come in a Mac version. So I purchased Freeway Pro and set about redoing the site. I like this software better than the Coffee Cup program I was using and it will give me a lot more options. It is also more complicated but little by little I figured it out and got the job done. I think it took a month of very intensive work.
The other big job was getting a new blanket for Myrtle. I loved the blanket I used coming down the coast but the material I bought wasn't waterproof. My cousin and aunt set about designing a new cover. They really did a great job and all my gear will be kept dry now. I bought material from Seattle Fabrics that is used for backpacking tents and we were able to use the brightly colored fabric from the old blanket too. I think it looks great.
Night before a Cross Country Tour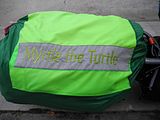 Embroidery on the new blanket
During this time between tours I became inspired to make some radical changes to my diet. I made a number of appointments at a Chinese medicine and acupuncture clinic hoping to loosen up my stiff shoulder. In Chinese medicine all parts of the body are inter-related. My shoulder stiffness was seen as compromising my lungs and large intestine. The doctor stuck needles in my lower right calf and my left shoulder moved much more freely. It seemed crazy and it was working. After 4 visits my shoulder went from 60% to 95% flexibility. I don't understand Chinese medicine or acupuncture but find it fascinating and very helpful.
At one of my visits the doctor explained that I am too damp. He said if I want to be healthier and lose weight I have to give up meat, all sugar and dairy. Everything I eat or drink must also be room temperature or warmer. These doctors have helped me so much I decided to trust their advice. For as long as I can remember I have eaten meat at both lunch and dinner so this is a big change. It is an especially big change to my tour eating routine. My staple tour lunch is a roll with mayo, salami, cheese and tomato. This was such a big change for me I wasn't sure I could do it all at once.
The changes I incorporated immediately were to replace red meat with fish or chicken. I was also going to limit the fish or chicken to one meal and only have at most 3 oz. I eliminated sugar and dairy completely. I read up on vegetarian cooking and learned about couscous, lentils and black beans. I discovered these are easy to prepare and are rich in protein and fiber. Instead of a roll I could stuff a pita bread with hummus, beans and vegetables for lunch. I wanted to get comfortable with the changes and put off my upcoming tour for a week. With some planning I figured out how to make a new way of eating work on the road. The sandwiches I came up with were really tasty and now I'm excited to get going.
The other thing I did was join Weight Watchers. My plan is to find meetings to attend all across the country. This way I'll have people to talk to about my progress. I think this will be very interesting. I have tried just about every diet imaginable without much success. I've ridden my trike thousands of miles and it has never affected my weight either. And I have a lot of weight to lose. Maybe the Weight Watchers people can help me. So far they are all telling me I'm not eating enough. Weight Watchers encourages better eating but doesn't have a real diet to follow. The plan suggests staying within a prescribed allotted points and writing down every morsel eaten. I'm having trouble eating all the points with my new eating. There are also online tools that make keeping track easy. They also track activity with points. I have been on this program for just over a week and it is going alright. I'm hoping I'll see more weight loss when I start riding.
So now I'm doing some last minute packing. The food bag with oatmeal, pita, coffee, hummus, veggies, black beans, tea, honey, fruit and nuts must weigh a good 5 lbs. Everyday it will get lighter. The only other change is adding more cold weather clothes. On my last tours I've been in very warm climates and haven't needed warm clothes. I've added a pair of pants, long sleeve jersey and couple of pairs of socks. Not so much.
I also pick up another gadget. I purchased the Dahon BioLogic ReeCharge. This device uses the dynamo hub to charge small electronics like my GPS, cellphone and ipod while riding. It's hard to imagine there's much else I can buy although I'm sure I'll think of something.
I take off on Saturday, January 15th. My first destination is going to be Palm Springs. A couple of friends are going to fly in for a 5 day visit and we are looking forward to hanging out by the pool in the sunshine. I've also got a couple of other friends I know that live there to visit. It's about 125 miles to Palm Springs from Los Angeles and I'll give myself 3 days to get there. I haven't done any serious riding in over 2 months so I think 40 miles a day will be plenty. The weather looks to be beautiful as well. Now the only thing left to do is plot a route and get going. It could be interesting trying to find my way out of Los Angeles.
Alright Myrtle - let's go!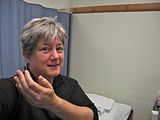 Acupuncture to loosen stiff shoulder and elimate dampness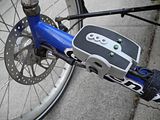 With the acupuncture doctor