<LINK REL="SHORTCUT ICON" HREF="http://www.sylviahalpern.com/public_html/favicon.ico">
I thoroughly enjoyed my stay at this lovely cycling club house and was sad to say goodbye. Steve and Gail had gone home to Houston Sunday night. Monday morning was wet and raining so I decided to stay another day. This wasn't a tough decision. It was nice to relax and have a quiet day. The rain only lasted a couple of hours in the morning and then the day turned out nice.
This morning the skies were bright blue as I pushed away to finish the ride I started 4 days ago. The scenery was rich farmland along elegant estates riding on Farm Road 390. This road doesn't have a shouder but there is very little traffic. I came to the old town of Independence which is the birthplace of Texas. There is a historic settlement right off the road. I visited some log houses from the early 1800's and ruins of the original Baylor University building site. I continued on to the very small town of Independence to stop at the store. This is the only stop on the way to Navasota. It seems to be a popular stop for cyclists on the ACA route. The shop clerk asked me to sign a guestbook. Thousands of cyclists have signed this book.
After a cup of coffee I continued on and took the turn for William Penn Rd which was winding and very beautiful. Wildflowers are just starting to make an appearance. This road ended at Hwy 105 that I took all the way into Navasota. Hwy 105 has significantly more traffic but it also has a huge shoulder.
From the turnoff, it was less than 10 miles into Navasota. I stopped at Brookshire Brothers market for supplies and asked about motels. The Vanguard was only 2 blocks away and I got checked in for $45. This is another clean and very basic motel with fridge, micro and wifi. It felt good to get here before 2 pm. I'll be able to relax and get myself organized for tomorrow's ride to Conroe.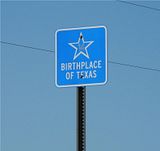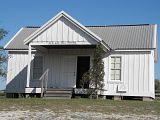 Narrow road leaving Gay Hill.
School from historic settlement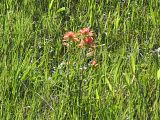 The wildflowers are just starting to appear.
Remnant of the original Baylor University.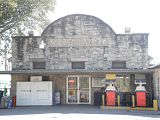 Store in Independence that is popular with cross country cyclists.