<LINK REL="SHORTCUT ICON" HREF="http://www.sylviahalpern.com/public_html/favicon.ico">
It was another warm night. I left my tent fly open and a nice breeze kept me cooler. It was so warm I didn't have my sleeping bag zipped up. Dave and I had at least 50 miles today and wanted to get an early start. We were on the road by 8:30 headed for Macedonia Road. This was a beautiful, very hilly road through the Homochitto National Forest. The route would climb to 400 ft and then drop to 250 over and over for 20 miles. We took Hwy 563 to Tom Crum Rd following the ACA Great River map. Tom Crum is one of the worst roads I have ever ridden. Everything was rattling so much I'm surprised I didn't lose teeth. Luckily it was only 2.7 miles but I was really annoyed that this was the best Adventure Cycling could come up with. I was already bothered that this 80 mile stretch doesn't have any accommodation options. We continued on Hwy 33 to Liberty Road. The scenery was really beautiful all day. Everything is budding out and there was lots of color. I am really grateful that I don't have allergies because the pollen count is probably off the charts. Liberty Road continued with the big rollers. We stopped at a hunting station to open our feed bags using the Xtracycle as a table. Looking at the hunting board a little closer we saw a sign warning about bears in the area. Talk about eat and run. We did not hang around after reading that sign. We made another stop at a church where Dave took a nap while I charged up the batteries for a half hour. Liberty Rd went all the way into downtown Natchez. There were lovely, elegant plantations with gorgeous landscaping along the road. We met up with a number of cyclists coming off the Natchez Trace finishing a 3-day tour. They rode off to a very fancy hotel. Natchez was looking like an upscale tourist town. I had booked us rooms at the Deluxe Inn for $40 per night. Looking around I started to worry about how skanky this hotel would be. We made our way to Canal Street and got a nice view of the Mississippi River. The Deluxe Inn turns out to be a great find. Nothing fancy but clean, safe and comfortable. There is a micro, fridge and wifi. Dave checked in for one night and I for 3. I needed to rest up after 3 nights of camping. I was also expecting the newly upgraded controller for my motor to be waiting at General Delivery. I knew it would take time to swap out the old controller especially considering I've never done it before. There were other things I wanted to take care of including researching the Natchez Trace history to make the most of the trip. The history in this area is so rich to be almost overwhelming. Natchez is a sweet town and I am looking forward to looking around.
I've made a late decision. I'm going to make the Natchez Trace ride it's own journal. 440 miles from Natchez, Mississippi to Nashville, Tennessee. The forward button at the top of the page will go directly to the first page of that journal.
Centreville to Natchez, MS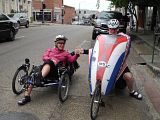 2.7 miles on the world's worst road.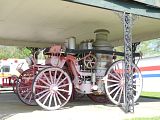 Bridge from Natchez to Louisiana across the Mississippi
Old firetruck in Natchez.