<LINK REL="SHORTCUT ICON" HREF="http://www.sylviahalpern.com/public_html/favicon.ico">
I really didn't want to repeat getting to the next town so late in the day and made sure to get up and out by 8:30 am. Well, that was until I started loading everything up and noticed the right front flat. Hhhhmmmpphhh! Just like the last one, the tube had a pin prick of a hole that I couldn't even find until I pumped it up to 2 times it's normal size. I found the small piece of thorn imbedded in the tire that required tweezers to remove. Instead of messing with patching the tube I threw on a new one. Those Mr. Tuffy liners are looking better and better. The day was the warmest in over a week. I started out on Interstate 10 which was noisy and the shoulder was like an obstacle course of potential puncture threats. Even though I wanted to get off the freeway, the frontage road to my right looked really awful. About 20 miles down I couldn't believe what I was seeing. There was a bright yellow velomobile screaming by on a frontage to my left. And then I started seeing groups of cyclists. What was I doing on a freeway when clearly there was a good cycling road. I gunned the motor and tried to keep up with the velomobile but that just wasn't going to happen. I was very happy to finally exit a few miles later. There was a big GABA century ride going on and this exit was the halfway point. I met lots of cyclists including John Abbey who was riding the Quest. We were the only recumbents of the 150 riders taking part. John's been following my journals and knew all about my trips. He also has a journal on CGOAB from this Quest ride from Michigan to Tucson. I wanted to know if he was doing the ROAM (Roll Over America) ride this summer. This is a big event with 70 velomobiles riding from Portland, Oregon across the country. John is lucky enough to be one of the riders. We chatted for a long time and then he needed to finish the second half of his ride. I also met volunteers Sally, Bill, John and Linda who invited me to have some of their wonderful spread of food. It was a good group. I charged up my batteries while I was chatting only because I knew I'd be there long enough to top them off.
I continued down the frontage road and met more riders. This was all very enjoyable. Then a man in a red pickup pulled over and started yelling with excitement "Myrtle the Turtle - I know you!". Of couse, I pulled over to find out who this man was. Gadi is a trike rider that has been following my journals from the beginning. He had 2 friends with him and he told them all about me. He also invited me to stay at his house but I already had a motel room booked. It doesn't happen very often that I get pulled over because someone knows about my blog. Very fun!
I rode on with a growing tail wind into Marana and made my way along a fantastic frontage road to the Red Roof Inn. This was my first time at this hotel. It was the cheapest place I could find and it was adequate but not great. For $65 I've come to expect a frig and microwave in the room. At least the wifi was strong. I unloaded Myrtle and settled down to watch the Super Bowl. I'm not a huge football fan but spent many years in Wisconsin. I was rooting for the Packers mostly because I know so many fans of the team. This team has an especially passionate following and after they won I called some friends to offer my congratulations.
Casa Grande to Marana, AZ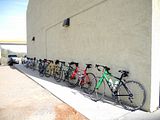 First Quest sighting across the freeway.
John and me. Myrtle and the Quest.
With Gadi, a big Myrtle the Turtle fan.
Many thanks to GABA volunteers Sally, John, Linda and Bill.
Fantastic frontage road into Marana.