<LINK REL="SHORTCUT ICON" HREF="http://www.sylviahalpern.com/public_html/favicon.ico">
Boy o boy it was cold this morning. Because I had 75 miles to ride today I wanted to start earlier. The temperatures were right at freezing when I pulled away from the hotel. One of my hydraulic disc brakes were frozen open and my camelbak was a block of ice. Since I got the heads up that the ride was going to be on a fairly flat terrain I decided one brake would be enough. I was hopeful the brake would start working once the temps rose. Back on noisy I-10 for a very long ride. My first stop was 20 miles along at the town of Bowie. I was hoping for a cup of coffee. As I got off the highway my frozen brake started working again. This town has seen better times. The hub of town seemed to be a couple of small RV parks. There were lots of baren pecan groves all around Bowie. Most buildings seemed to be for sale including the Teepee Cafe that had a fresh coat of paint. I ended up at a gas station for a cup of coffee and to charged up the batteries. Some people came over to ask about Myrtle and everyone was concerned that I was riding on the highway. There were some real characters coming around. One local guy gave me a detailed rundown for why the EPA is at the heart of all problems facing the US. A hour later I was back on the road headed to San Simon. The road became really bad at this point all the way to the New Mexico border. There were large and small potholes with more trash and tire pieces than I have ever seen. It was slow going trying to work my way through of all of it. I didn't know what charging options were up ahead and took advantage in this small town. It wasn't much more than a gas station. While the batteries were charging I called friends to pass the time. Next stop was a rest area to use the bathroom. There weren't any outlets at this rest area and I continued on hoping I could make it the 25 miles. Soon I came to the New Mexico border and stopped for photos. The route had been fairly flat up to this point. Then there was a good hill into Steins. On my way up the hill I saw a touring cyclist going the other way flying down the hill. With arms flailing I tried to get his attention but he didn't see me. At about mile 60 I was feeling ready to be done. The sun was starting to go down and the shadows were getting long. I put my sunglasses away and rolled into the hotel just before dark. I was exhausted and more than thrilled to be able to stop. The Super 8 called out to me and I got checked-in for $55.
I've got 2 more days on I-10. Tomorrow's ride will take me to Deming another 60 miles down the road.
Willcox, AZ to Lordsburg, NM
The Teepee Cafe in Bowie is for sale.
Wind warnings in New Mexico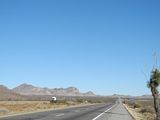 Along the fruited plains.