<LINK REL="SHORTCUT ICON" HREF="http://www.sylviahalpern.com/public_html/favicon.ico">
I had a really nice stay in Ville Platte and felt rested. Brook at the front desk was very helpful and put up with all my questions. I took advantage of having a full kitchen and I cooked up some asparagus, portabello mushrooms and broccoli for the road. I headed out La Salle St. to Hwy 78 under cloudy and windy conditions. This was a beautiful road and even with a head wind I enjoyed it. I met Richard from Australia cycling westbound. We yakked for awhile and then continued on.
I loved the picturesque horse farms with mama and baby horses eating together in the flowering fields of grass. I continued into Washington and stopped at the Opera Cafe for coffee. This is a very historic, touristic town with a steam boat on the river. Then I took Hwy 103 and saw my first plantations on a bayou. I stopped in Port Barre and stopped at a park behind the fire station for lunch. Then I got on Hwy 190 which is a busy road that I don't recommend. I took off the ACA route again today because there weren't any motels. My objective for this detour is a motel in Livonia. I stopped at Krotz Springs just before a big bridge. While I was at the gas station I decided to call the Oak Tree Inn to make sure they had a room. Ooppss - they were full. Hhhmm....I was really counting on this motel. I had called a few days ago and a guy said not to bother booking a room. Turns out that Livonia has a big train switching station and the Inn houses conductors that take trains from here to New Orleans, Houston and Shreveport. They rarely have a vacancy. Then I found out that the bridge ahead is 4 miles long with no shoulder. Everyone in the gas station said I would be crazy to ride across. Hhhmm again. After lots of discussion I decided to get a ride across the bridge and then figure out where to stay. One of the station clerks made a call and a couple in a pick up on their way to church stopped by to give me a lift. Often when people say a road is dangerous it turns out to be ridable. Not this time. I was so grateful to Fran and Lewis for helping me out. They dropped me in the Oak Tree Inn parking lot. After they said goodbye I went to the front desk to see about a vacancy even though they had told me just 45 minutes earlier they were full. They were still full. I noticed there was a large field in the back and asked about camping there. No problem and no charge either. This turned out great. There were picnic tables, a gazebo, electricity, water and wifi. There is also a 24-hour diner in the parking lot. I met many of the railroad guys and they all said they would look after me. I couldn't believe my luck and got my camp set up. With all the excitement today I was thoroughly exhausted.
Ville Platte to Livonia, LA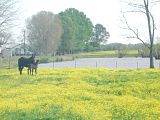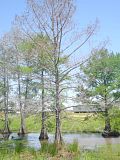 Mama and baby horse in a field of flowering grass.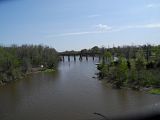 One of many river crossings.
Road Angels Fran and Lewis.