<LINK REL="SHORTCUT ICON" HREF="http://www.sylviahalpern.com/public_html/favicon.ico">
I had to keep Myrtle locked outside next to the lobby which made me nervous. She was hidden from view of the street but my room was inside and farther away than I was comfortable with. The next morning I was really relieved to find Myrtle locked up right where I left her. I could have brought her inside the hotel but that would require help and sometimes in the morning I can't find help to move her outside again. If this was a sketchy neighborhood I would have brought her inside for sure.
I got going at about 8:30 and it was well above freezing and sunny. Deming isn't a very interesting town and seems to exist solely to service I-10 travelers. I was really excited to get to Las Cruces and meet up with my friend Carolyn. She was driving down from Santa Fe. The last time I was with friends was in Palm Springs many weeks ago. Back on I-10 the traffic was much quieter today than yesterday. The traffic was so quiet I wondered if there had been an accident back down the interstate. The road remained quiet and I decided that truckers had taken the day off to be with their honey's for Valentines day.
There were a number of travel center's to stop at throughout the day. I charged up at the first one after 20 miles. The same family owns a number of these shops and gas stations along I-10 and they were very nice letting me take my batteries inside. Interestingly, the cashier guy said it was 47 miles to Las Cruces which really had me concerned. That would make for a very long day's ride and I really wanted to get to a Weight Watchers meeting at 5:30. Suddenly, I wasn't sure I could make that meeting. Well, I don't know what the guy was talking about because shortly after getting back on the highway a sign posted 32 miles to Las Cruces - much better and I knew I could make it without having to stop anymore.
There were a few more travel centers but I only stopped at one for a pee break. I was excited to get to Las Cruces and didn't even stop at the rest area to see if there were any outlets or wifi. The downhill into Las Cruces was glorious and the view was terrific. The city is surrounded by big rugged mountains. I flew into the city and was at an America's Best Value Inn by 4:15 getting settled for $49/night. Carolyn called to say it was taking her longer than expected and so I rode to my Weight Watchers meeting. The electricity was out in the neighborhood and we had to get weighed in on old fashioned scales. This was a successful meeting for me with a 4.4 lb loss. It's all going really well.
I left the meeting early so I could get back to the motel before dark. Carolyn showed up about 15 minutes later. It was fantastic to see her and I'm looking forward to spending a few days with a good friend.
I'm carrying enough already.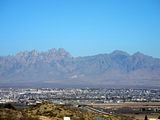 Hatch, NM is the red and green chile capital of the world.