<LINK REL="SHORTCUT ICON" HREF="http://www.sylviahalpern.com/public_html/favicon.ico">
I slept well in the bunkhouse which I had all to myself. Carol generously offered to make me breakfast but I have everything I need. After getting packed up I went to say goodbye and we ended up yakking for quite awhile. Carol is a very interesting person. It was probably 9:30 when I pushed on down the drive way back out to the dirt road. The wind was really strong today. I found Hwy 1697 and rode the 6 miles into Burton. I decided I needed a cup of coffee and stopped a man outside a B&B to ask where the closest cafe was. He said to come on in. Steve and Carmen own and run the Knittel Homestead which is a very elegant Inn. Steve said they get quite a few cyclists staying this time of year. We watched coverage of the tsunami disaster together. I hadn't seen much and the pictures were just heartbreaking. Steve talked about blue bonnet season which should be starting up any day. He couldn't have been nicer pouring me many cups of coffee while we yakked away. It was close to noon by the time I got back on the road. The scenery was fantastic on Farm Road 390. Sometimes the rollers were quite steep getting up to 12% but mostly they were in the 4-7% range. I rode passed very expensive estates with views of Somerville Lake. A motorcyclist was parked on the side of the road drinking a beer enjoying the view. We chatted for a while. Turns out he is a neighbor of Carols'.
I continued on riding up and down. I was cresting one of the biggest rollers of the day when a cyclist out for a day ride pulls alongside. He introduces himself and invites me to have lunch with a cycling club. Excellent! I follow Steve to the bottom of the hill fully expecting we are headed for a restaurant. Instead we end up at the Gay HIll cycling club house. Cyclists started arriving one by one exhausted from the day's ride. Everyone was complaining about the terribly strong headwinds. This group is mostly from Houston. They are all professionals that come out here on weekends to ride and play. Steve and his wife have built a guest house on their weekend property for the cyclists to use. No one actually lives here. The house is gorgeous. There are 2 bedrooms and it has been recently restored. After eating snacks, a few beers and blueberry margaritas everyone goes home. Steve invites me to stay the night at the clubhouse. Fantastic. He and Gail are off to a wedding and another friend, Beate, invites me over for dinner. What luck! Beate comes over at 7:30 to pick me up and we have a terrific evening with her husband Michael and neighbor Sandy. That was a wonderful meal with great conversation and lots of wine.
In the morning I was packing up when Steve and Gail came over with all the fixings for breakfast. We yak and yak. Then Steve takes Myrtle over to a neighbors house. Gail and I follow. Gail takes a spin on Myrtle returning with a big 'ol grin on her face. I think they really liked the motor. After we returned to the house they invited me to stay another night. Yahoo! Suddenly, this tour has taken a very civilized turn.
The house and property are so nice it feels like a huge gift. This is the kind of events that make the journey extra special. Thanks Steve, Gail and the Gay Hill Cycling Club!!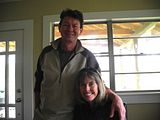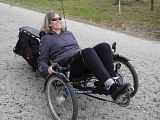 Gay Hill cycling clubhouse
Gail looking very relaxed.
I had a lovely dinner with Michael, Beate and Sandy.